THE CREATORS OF "HOW THE WEST WAS WON"
(NOTE: biographies were written in 1963, and are not up to date.)
THE PRODUCER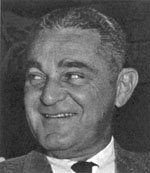 BERNARD SMITH unknowingly devoted most of his life preparing to produce HOW THE WEST WAS WON. Born in New York and educated at Columbia University, he was an editor at Alfred A. Knopf Inc. from 1929 until 1944. During that period, he rose to editor in chief and frequently edited books on American history and the American West. In 1946 he became story editor for Samuel Goldwyn, and later served in various executive positions with Paramount, Edward Small Productions, and Hecht-Hill-Lancaster. He produced his first film, "Elmer Gantry," in 1960. HOW THE WEST WAS WON is the first he has produced since joining MGM in 1960.
DIRECTOR of the Rivers, the Plains and the Outlaws segments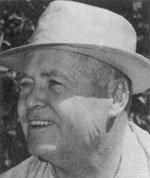 HENRY HATHAWAY, born in Sacramento, California, is acknowledged as one of the industry's foremost directors of fast moving, action films. He began his remarkable career at the age of eight as a child actor. Hathaway first commanded critical attention for his work on "Lives of the Bengal Lancers." Since that time has delivered an imposing list of outstanding productions, among them "The Trail of the Lonesome Pine," which was the first outdoor film photographed in color. Among his other hits are such motion pictures as "Peter Ibbetson," "Go West, Young Man," "Souls at Sea," "Spawn of the North," "Brigham Young" and "North to Alaska." For HOW THE WEST WAS WON he directed the sequences on the Rivers, the Plains and the Outlaws.
DIRECTOR of the Civil War segment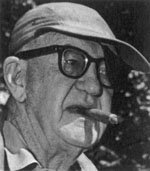 JOHN FORD is Hollywood's Only four time Academy Award-winning director. He received Oscars for "The Informer" (1935), "Grapes of Wrath" (1940), "How Green Was My Valley" ('94') and "The Quiet Man" (1952). Ford, born in Cape Elizabeth, Maine, was given his first directorial assignment in 1917, the film being a two reel Western. Since that time he has directed such all time greats as "The Iron Horse," "Arrowsmith," "Stagecoach," "She Wore a Yellow Ribbon" and "Mr. Roberts," to mention only a few. During World War II he served as Lieutenant Commander with the U.S. Navy in the Pacific and European theatres. He achieved the rank of Rear Admiral. For HOW THE WEST WAS WON he directed The Civil War sequence.
DIRECTOR of the Railroad segment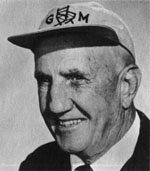 GEORGE MARSHALL, born and educated in Chicago, Illinois, has directed more than four hundred feature motion pictures during a career spanning a half century. He literally was trained in every phase of movie making. He joined the old Universal Studios in 1912 and was successively an extra, bit player, prop boy, makeup man, film editor, cameraman, casting director and assist-ant director. He directed his first film, a three reel Western, in 1913. During his early career Marshall directed such stars as Ruth Roland. Lloyd Hamilton and Tom Mix. He saw service in World War I, and his films have included "Destry Rides Again," "Houdini" and "Money from Home." For HOW THE WEST WAS WON he directed The Railroad sequence.
THE WRITER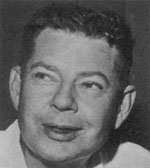 JAMES R. WEBB has earned an outstanding reputation as a writer. Born in Denver and educated at Stanford University, he began writing fiction in 1936 and screenplays in 1938, and his work has appeared in almost every American magazine of importance. During World War II he served with distinction in North Africa and Europe. Since 1951 he has written screenplays exclusively, and among his successful credits are "The Big Country," "Trapeze" and "Pork Chop Hill."

THE CINEMATOGRAPHERS

WILLIAM DANIELS,

A.S.C., born in Cleveland, Ohio, gave up the study of law at the Universitv of Southern California to join the motion picture industry as a cinematographer. He was first an assistant cameraman at Triangle Studios in 1917 and became a first cameraman the following year at Universal. Daniels moved to the newly formed Metro-Goldwyn-Mayer in 1924 and photographed most of the films starring the glamorous Greta Garbo. He won an Academy Award in 1948 for "Naked City."

MILTON KRASNER,

A.S.C., began his career as an assistant cameraman and camera operator in 1918 at the old vitagraph and Biograph Studios in New York City where he was born. He became a first cameraman in 1927, and Academy Award winner in 1954 for his photography of "Three Coins in the Fountain." He photographed "Double Life," which won an Academy Award for Ronald Colman, and "Farmer's Daughter," the film for which Loretta Young received her Oscar. He also was cinematographer on the Academy Award winning "All About Eve."

CHARLES BRYANT LANG, JR.,

A.S.C., like Daniels, was a law student at the University of Southern California when he also became interested in the art of photography. Starting in the Paramount Film Laboratories he came to the attention of Cameraman H. Kinley Martin who made him his assistant. He soon advanced to the position of Cinematographer and won an Academy Award in 1933 for his photography of "Farewell to Arms," and has been nominated three times since for "Queen Bee," "Separate Tables" and "Some Like It Hot."

JOSEPH LaSHELLE,

A.S.C., was set for a career as an Electrical Engineer until he took a summer job in the old Lasky Laboratory. This was so fascinating he remained and soon became superintendent of the printing room at the Paramount Laboratory. In 1925, Cameraman Charles K. Clark chose him as his assistant. "The Happy Land" was LaShelle's first assignment as a Cinematographer. This was followed by a group of outstanding films among them "Laura," which brought him an Academy Award in 1944. Since then he has had three Award nominations for "Marty," "Career" and "The Apartment."
CREDITS
Produced by
BERNARD SMITH
Directed by
HENRY HATHAWAY
JOHN FORD
GEORGE MARSHALL
Written by
JAMES R. WEBB
Suggested by the series, "HOW THE WEST WAS WON," which appeared in LIFE magazine
Music
ALFRED NEWMAN
KEN DARBY, Associate
Directors of Photography
WILLIAM H. DANIELS, A.S.C.
MILTON KRASNER, A.S.C.
CHARLES LANG, JR., A.S.C.
JOSEPH LASHELLE, A.S.C.
Print by
TECHNICOLOR
Art Direction
GEORGE W. DAVIS
WILLIAM FERRARI
ADDISON HEHR
Set Decoration
HENRY GRACE
DON GREENWOOD, JR.
JACK MILLS
Color Consultant
CHARLES K. HAGEDON
Film Editor
HAROLD F. KRESS, A.C.E.
2nd Unit Photography
HAROLD E. WELLMAN, A.S.C.
Assistant Directors
GEORGE MARSHALL, JR.
WILLIAM MCGARRY
ROBERT SAUNDERS
WILLIAM SHANKS
WINGATE SMITH
Production Supervisor For Cinerama
THOMAS CONROY
Special Visual Effects
A. ARNOLD GILLESPIE
ROBERT R. HOAG, A.S.C.
Costumes
WALTER PLUNKETT
Hair Styles
SYDNEY GUILAROFF
Makeup
WILLIAM TUTTLE
Music Co-ordinator
ROBERT DOLAN
Recording Supervisor
FRANKLIN MILTON
Certain sequences filmed in
ULTRA PANAVISION ®
- END-
CLICK HERE FOR FULL CAST AND CREW CREDITS
(from the Internet Movie Database website)

Click here if navigation bar is not visible on the left