WHAT'S NEW WITH HTWWW
(last updated October 22, 2013):
---
October 2013 news: Arclight Theaters is going to show HTWWW again! During the Cinerama Dome's 50th Anniversary event there will be a single showing of HTWWW, on October 27th at 12:40pm at the Dome (Hollywood). See HERE for more info (check out the rest of the movies offered, too).
---
Arclight Theaters will be having a Cinerama extravaganza from September 28 - October 4, 2012. For the FIRST & ONLY time for one SPECTACULAR WEEK they will be playing twelve classic Cinerama productions. Select titles will be presented in the original 3 strip Cinerama process and additional titles will be digitally projected, re-mastered from the original negatives. Starting off the series is the world premiere of "In The Picture", the first film photographed in 3 strip Cinerama in 50 years!
So if it's been a long time since you've seen HTWWW in real Cinerama 3-strip, now's your chance! There will be one showing on Friday September 28, and one showing on Thursday October 4. Get your tickets while you can, the seats are selling out fast!

South Seas Adventure (1958)
Cinerama Holiday (1955)
How the West Was Won (1962)
2001: A Space Odyssey (1968)
The Golden Head (1965)
The Wonderful World of Brothers Grimm (1962)
Search for Paradise (1957)
Seven Wonders of the World (1956)
Holiday in Spain (1961)
Cinerama's Russian Adventure (1966)
Windjammer: The Voyage of the Christian Radich (1958)
It's a Mad, Mad, Mad, Mad World (1963)
60th Anniversary Screening of This is Cinerama (1956)

For a complete list of titles and showtimes, visit www.arclightcinemas.com/news
---
THIS WEBSITE IS MOVING TO A NEW ADDRESS (URL)!!!
http://www.daveswarbirds/HTWWW
Please update your Bookmarks / Favorites to the new address!

---
HOW THE WEST WAS WON to be shown in Seattle, WA from Sept 30-Oct 2, 2011!
The next screening of HTWWW will be during a three day run at the Seattle Cinerama Theater. Check their Coming Soon webpage at http://seattlecinerama.com/coming-soon/ for more information. As a bonus, they will also be showing the rare "This Is Cinerama", of which only 3 prints remain (and which was never released on DVD).
---
HOW THE WEST WAS WON was shown in England on March 26th, 2011
The National Media Museumís Pictureville Cinema, Bradford, England showed HTWWW in 3-strip Cinerama on their curved screen (with 7 track magnetic stereophonic sound) on Saturday March 26, 2011. This screening was of their vintage dye transfer (IB) Technicolor print. If you were able to attend, send me an email and let me know how it went....
http://www.nationalmediamuseum.org.uk/film/viewfilm?id=739&format=Cinerama
---
MUSIC NEWS! - By popular request, I've added a page of lyrics for the songs of How The West Was Won. You can check it out by clicking the link on my HTWWW music page, or by clicking HERE.
---
EARLIER NEWS FROM 2008-2010:
I just found out about another deleted scene from the movie, plus much more information on the deleted scenes of Hope Lange. Go here to see the latest updates: deleted scenes from the movie.
---
Were you there? Did you see HTWWW at the Cinerama Dome on September 7th (2008)? I was there, and it was great to see it in three-panel format again (last seen in 2005 at the Dome), but the sound system suffered from a Dolby glitch that somewhat marred the presentation. It was worth the trip to Hollywood again in any case. We'll keep our fingers crossed for another showing there in the coming years....
---
DVD NEWS
In accordance with HTWWW's 45th anniversary, Warner Home Video has released "How The West Was Won" as a special edition DVD boxset with a fully restored print on August 26th 2008, a Dolby 5.1 soundtrack restored from the 7-track mag, and a 2003 documentary "Cinerama Adventure" included as an extra. The aspect ratio is 2.89:1. The "smilebox" feature that enables the film to be seen in its original Cinerama ratio is available on the Blue-Ray version of the boxset (in addition to the letterbox format). For further details, see the May 2008 paragraph below.
(Thank you to all of my friends who sent me emails with the release details!)
In related news, click HERE to see an article on the restoration of HTWWW, a project meant to restore and preserve the film for future generations; the results of which will be seen on the new DVD boxset.
DVD REVIEWS
Here are some reviews of the new HTWWW DVD box sets:
review at the NY Times
review at the San Diego Union
review at DVD Talk
review of the BluRay edition at DVDTown
---
OLDER NEWS (December 2007): It appears that the upcoming DVD box set will be taking advantage of new software technology to remove the 3-panel join lines from the movie. See http://www.hpl.hp.com/news/2006/apr-jun/movie.html for an article on this. The concept and process seems like a great idea, though I'm a little concerned that the color levels seem to have really dropped in the "fixed" version. The "fix" does seem to eliminate some of the distortion problems caused by the translation of the original curved format to a flat screen, however.
OLDER NEWS (March 2008): I added a link to Debbie Reynold's Hollywood Motion Picture Museum on my Weblinks page. It's great to see Ms. Reynolds preserving the history of Hollywood!
OLDER NEWS (May 2008): The new DVD box set will be released in three versions:
How The West Was Won Special Edition
How The West Was Won (Blue-Ray) (another webpage: HERE)
How The West Was Won Ultimate Collections Edition (another webpage: HERE)

Restoration shows how 'West' was done

Warner Home Video gears up to release the classic

By Thomas K. Arnold

April 30, 2008, 05:29 PM


"How The West Was Won"

Warner Home Video is gearing up for one of its most ambitious catalog releases ever.


"How the West Was Won," the sprawling 1962 MGM Western epic boasting an ensemble cast that includes Henry Fonda, John Wayne, Gregory Peck and James Stewart, will be released Aug. 26 in three newly restored and remastered versions.


What made the project a bit more cumbersome than others is the fact that "West" is one of just two narrative feature films produced in the original Cinerama three-panel widescreen process, a costly proposition abandoned after just one other simultaneously shot MGM feature, "The Wonderful World of the Brothers Grimm."


During its initial theatrical run, "West" -- a winner of three Oscars, including best original screenplay -- was shown in theaters specially equipped with three synchronized projectors on extra-wide, slightly curved screens. Later, it was presented on traditional screens with the three separate panels optically joined to form a standard widescreen image, leaving two vertical "join lines" clearly visible on the screen.


The join lines are noticeable as well on the original DVD edition of the film that Warner released in July 1998, barely a year into the format's life cycle.


The film has been a consistent seller for Warner, and George Feltenstein, the division's senior vp classic catalog marketing, has long wanted to produce a special edition. But he didn't want one with those nasty join lines, he said, so he went to the technicians at Warner Bros. Motion Picture Imaging for help.


That was about five years ago. Technicians did, in fact, develop a complicated software program to eliminate the lines, and about 18 months ago they began an exhaustive frame-by-frame restoration only now being finished.


"The film has always been extraordinarily successful and popular, with the cast being what it is and the story being so inspiring," Feltenstein said. "But we always felt that to really do it justice we had to find a way to bring the panels together and eliminate those join lines so it looks gorgeous. We tried and tried, and ultimately we found a way. The results are truly astounding."


Feltenstein noted that in all showings subsequent to the film's original theatrical run, whether in regular theaters or on television or home video, "people have had to put up with those awful join lines. It was a fact of life; no one ever bothered to fix it or even make any attempt to explain to audiences why the picture looked funny."


The new and improved "West," sans annoying lines, will be presented on all three editions of the film: a special edition DVD, an "ultimate collector's edition" DVD and a Blu-ray Disc edition. Additionally, the Blu-ray edition will come with a second version of the film that replicates the original Cinerama experience.


"Dave Strohmaier, considered the world's foremost expert on all things Cinerama, calls it the 'smile box' version because it uses the shape of the original Cinerama screen and expands out with a curve so it looks like a frown on the bottom and a smile on the top," Feltenstein said. "It's almost 3-D, and it allows anyone who has a home theater system to re-create the Cinerama experience."


Feltenstein said that Strohmaier, whose 90-minute documentary "Cinerama Adventure" is featured on all three editions of "West," has been intimately involved in the production of the packages.

In addition to the documentary, other special features include a film historian commentary, a vintage making-of feature and the original theatrical trailer. The collector's edition comes with a 20-page theatrical press book reproduction, 10 behind-the-scenes photos and 10 postcards. The Blu-ray edition is packaged in a "Digi-book" that resembles a small hardcover book and includes 32 page of press materials and behind-the-scenes photos.

(Thanks to Don McCauig from Journey Films for sending me the above article.)
OLDER NEWS (June 2008): there's a new (June 2008) web article on the digital restoration of How The West Was Won here: http://www.in70mm.com/news/2008/west_digital/index.htm
OLDER NEWS (July 2008): The Warner Home Video release date for the remastered DVDs of How The West Was Won has been moved to September 9. The fully restored master will be aired on TV as a special event on the Encore Westerns channel on Labor Day Weekend, just prior to the DVD release. It will also be aired on the Encore and Encore On Demand HD channels. Stay tuned for more specific information as it becomes available.
---
- FROM LAST YEAR (2007) -
I've added some fascinating photos and info on my page on deleted scenes from the movie, so make sure you check that out.
There is now a page on my October 2005 trip to see HTWWW at the Cinerama Dome. (See also the paragraph below.)

HOW THE WEST WAS WON was presented in the original 3 strip Cinerama process at the ArcLight Cinemas Hollywood at the Cinerama Dome in an exclusive one week engagement in the fall of 2003 and again in 2005. The will probably be showing the movie again in the spring or summer of 2008, possibly in conjunction with the release of the upcoming deluxe DVD set. I recommend that you become a member of the Arclight Cinemas so that you can get their email newsletter and can find out the play dates in advance, so that you can make your travel plans. If you hear anything, please let know so that I can post it here for the other HTWWW fans.
I created a handout (brochure) for the Dome to give their patrons during their HTWWW presentations, but it wasn't ready in time for the printers. But you can download it, print it, and have it ready for the next time you watch the movie.
Click here to download the file.
(This is a zipped file in Microsoft Word format. Download it, unzip it, and print pages 1 and 3. Turn the pages over, and put them back in the printer. Now print pages 2 and 4. Fold the pages in half, and put the sheet with page numbers 4-5 in the center. Now you've got a nice handbook to read while you're waiting for the movie to start!)
By the way, in case you didn't know, the Cinerama Dome has been restored with a curved screen and three original Cinerama projectors, making it the only theater in California (and one of only three in the U.S.) capable of showing Cinerama-format movies.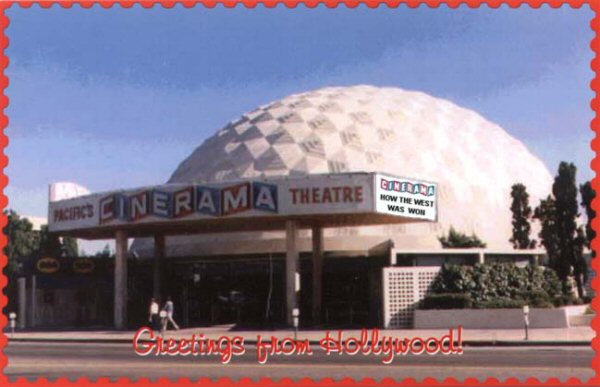 I was fortunate enough to see HTWWW at the Dome, and all I can say is "WOW!". More than any movie that I've ever seen, HTWWW is so much better in its original format in a theater than it could ever be in your home. When I say that the difference is like night and day, I'm not kidding. And no matter how good your stereo is, it could never deliver that great HTWWW soundtrack as magnificently as the Dome can. If you ever get the chance to see this movie in its original Cinerama format, do not pass up the opportunity!