Kawanishi E7K Type 94 ("Alf")


---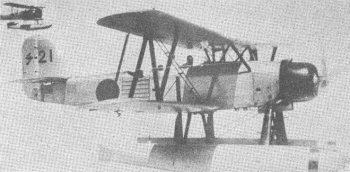 A relic of the early 1930s, the Type 94 originally entered service in 1934, yet remained in use throughout the Pacific War as a reconnaissance, trainer, and finally a kamikaze type. The name "Alf" applied to both the E7K1 inline and the E7K2 radial powered versions, the latter entering service during the Sino-Japanese War.
Kawanishi E7K2
Type:           Reconnaissance Seaplane
Service: 	Japanese Naval Air Force (JNAF)
Crew:           Pilot and two crewmen
Armament:       one forward-firing 7.7mm Type 92 machine gun
		one flexible rear-firing 7.7mm Type 92 machine gun
		one flexible downward-firing 7.7mm Type 92 machine gun
		four 66 lb (30 kg) bombs or two 132 lb (60 kg) bombs
Reference: 	Francillon: 300, Mondey: 

Specifications:
        Length:         35' 5" (10.5 m)
        Height:         15' 10.5" (4.85 m)
        Wingspan:       45' 11" (14 m)
        Wing area:      469.32 sq. ft (43.6 sq. m)
        Empty Weight:   4630 lbs (2100 kg)
        Max Weight:     7275 lbs (3300 kg)

Propulsion:
        No. of Engines: 1
        Powerplant:     Mitsubishi Zuisei 11 14-cylinder radial
        Horsepower:     870 hp

Performance:
        Range:          1105 miles (1779 km)
        Cruise Speed:   115 mph (185 km/hr)
        Max Speed:      171 mph (275 km/hr)
        Climb to/in:    9845 ft (3000 m) in 9 min 6 sec
        Ceiling:        23165 ft (7060 m)
	Endurance: 	11 hours 15 minutes
Production:		approximately 530 E7Ks


Additional information on this aircraft can be found at Wikipedia HERE.

For a very nice scale color drawing of this aircraft, see here and here.
Additional color schemes for this aircraft can be found here.

If you don't see the table of contents at the left of your screen, CLICK HERE to see the rest of this website!