Mitsubishi A5M Type 96 ("Claude")


---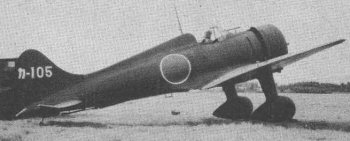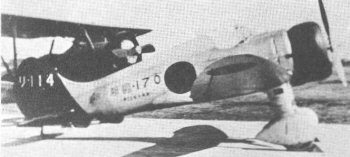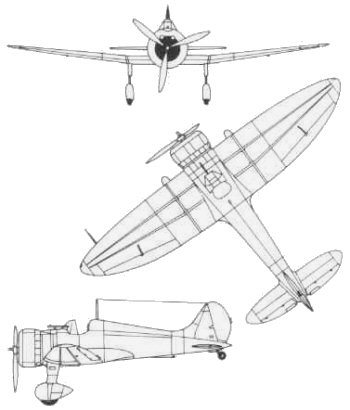 Click HERE to see a more detailed 3-view of the Claude
The Mitsubishi A5M was the immediate predecessor of the Mitsubishi A6M Zero fighter. This small, low-wing monoplane with fixed landing gear was a transition plane, yet it marked a decisive step in the prewar evolution of Japanese naval aviation. The prototype made its first flight on February 4, 1935, and then went through a series of flight tests. The aircraft was put into production in 1936, with a total of 1,094 A5Ms were built in several versions before production ceased in 1940. When the Pacific war began, the Allies still thought that the A5M equipped the bulk of the Japanese Navy fighter units and they assigned the code name "Claude" to the aircraft, while reserving the codename "Sandy" for what they thought was a version of the aircraft with inverted gull wings. No Sandys were ever encountered by the Allies, however, as the sole prototype was destroyed during testing in 1935. With the exception of the attack on Davao in the Phillipines, no Claudes participated in front-line actions against the Allies, and most of the A5Ms were used in Japan by second-line and training units during the war. The few A5Ms that remained by war's end were expended in kamikaze attacks against Allied ships off of the coast of Japan.
Mitsubishi A5M Type 96
Type:           Carrier-borne Fighter
Service: 	Japanese Navy Air Force (JNAF)
Crew:           one
Armament:       two fixed forward-firing 7.7mm machine guns
		two 66 lb (30 kg) bombs
Reference: 	Francillon: 347-8, Mondey: 193

Specifications:
        Length:         24' 9.25" (7.55 m)
        Height:         10' 6" (3.20 m)
        Wingspan:       36' 1" (11.00 m)
        Wing area:      191.60 sq. ft (17.80 sq. m)
        Empty Weight:   2681 lbs (1216 kg)
        Max Weight:     3759 lbs (1705 kg)

Propulsion:
        No. of Engines: 1
        Powerplant:     Nakajima Kotobuki 41 9-cylinder radial
        Horsepower:     710 hp

Performance:
        Range:          648 nautical miles (746 st miles)
        Cruise Speed:   n/a
        Max Speed:      273 mph (440 km/hr) at 9840 ft (3000 m)
        Climb to/in:    9845 ft (3000 m) in 3 min 35 sec
        Ceiling:        32150 ft (9800 m)
Production:		approximately 2446 A5Ms



Additional information on this aircraft can be found at Wikipedia HERE.

For a very nice scale color drawing of this aircraft, see here.
Additional color schemes for this aircraft can be found here.



(go to Mitsubishi page)
If you don't see the table of contents at the left of your screen, CLICK HERE to see the rest of this website!