Kyushu K9W1 Type 2 Momiji ("Cypress")
Kokusai Ki.86 Type 4 ("Cypress")


---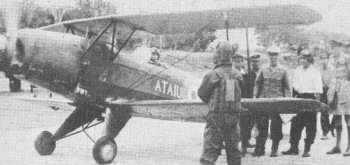 In 1939 the German Bücker company demonstrated their Bü 131 "Jungmann" two-seat primary trainer to the Japanese Navy, which was impressed by the capabilities of the aircraft. In August 1942 after the completion of negotiations for obtaining the manufacturing rights of the Bü 131, Watanabe (later renamed Kyushu) put the type into production as the Navy Type 2 Primary Trainer Model 11 (K9W1). Named Momiji (Maple) and code named "Cypress" by the Allies, the K9W1 became the Navy's standard primary trainer. The outstanding qualities of the K9W1 attracted the interest of the Army, which in 1943 instructed Nippon Kokusai Koku to manufacture a version of the aircraft bearing the designation Ki-86. Also known as the Type 4 Primary Trainer for the Army, the first examples were delivered starting in 1944 and replaced the Ki-17 as the Army's standard primary trainer.
Kokusai Ki.86
Type:           Primary Trainer
Service: 	JAAF and JNAF
Crew:           pupil and instructor
Armament:       none
Reference: 	Francillon: 505

Specifications:
        Length:         21' 8.5" (6.616 m)
        Height:         8' 7.75" (2.636 m)
        Wingspan:       24' 1" (7.34 m)
        Wing area:      152 sq. ft (14.2 sq. m)
        Empty Weight:   902 lbs (409 kg)
        Max Weight:     1409 lbs (639 kg)

Propulsion:
        No. of Engines: 1
        Powerplant:     (K9W1): Hitachi GK4A Hatsukaze 11 4-cylinder inline
			(Ki-66): Hitachi Ha-47 11 4-cylinder inline 
        Horsepower:     110 hp

Performance (Ki-86):
        Cruise Speed:   75 mph (120 km/hr) at 3280 ft (1000 m)
        Max Speed:      112 mph (180 km/hr)
        Climb to/in:    6560 ft (2000 m) in 13 min
        Ceiling:        12730 ft (3880 m)
	Range: 		373 st miles (600 km)
Production:		approximately 339 K9W1s and 1037 Ki-86s


Additional information on this aircraft can be found at Wikipedia HERE.
Additional color schemes for this aircraft can be found here.


If you don't see the table of contents at the left of your screen, CLICK HERE to see the rest of this website!