Nakajima Ki.49 Donryu ("Helen")
Nakajima Ki.58

---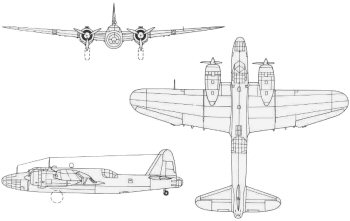 Click HERE to see a more detailed 3-view of the Helen
The Nakajima Ki-49 Donryu ("Storm Dragon") was the first heavy bomber in the Japanese army to have a tail turret. Aside from this feature, there was nothing exceptional about the plane the Allies called "Helen". The Ki-49 was designed at the time the Mitsubishi Ki-21 was going into service. It was intended as the Ki-21's successor, but the Ki-49 never surpassed the older plane's performance and never completely replaced it. Its chief defect was insufficient power, which limited its performance. And the plane was inadequately armed, making it easy prey for enemy fighters. The Ki-49 did, however, have good armor for the crew, and the fuel tanks had fine safety devices. Production was sporadic, but in the course of four years, from December 1940, to December 1944, a total of 819 aircraft were built in a variety of models. One interesting variant was the Nakajima Ki-58, which was a design that came out of a perceived need for a long range fighter escort that could protect bombers throughout their missions in China. In late 1940 and into 1941 Nakajima built three prototypes of the Ki-58, which was basically a Ki-49 with increased armor, more guns (a total of five 20mm cannons and three 12.7 machine guns), and the elimination of the bomb bay. The Ki-58 project was abandoned, however, when the Ki-43 "Oscar" fighter went into service, filling the Ki-58's intended role.
Nakajima Ki.49
Type:           Heavy Bomber
Service: 	Japanese Army Air Force (JAAF)
Crew:           eight
Armament:       two 7.7mm Type 89 machine guns (one each in port/starboard beam positions)
		one flexible 20mm Ho-1 cannon in dorsal turret
		three 12.7mm Ho-103 machine guns (one each in nose, ventral and tail positions)
		2205 lb (1000 kg) of bombs maximum
Reference: 	Francillon: 228, Mondey: 

Specifications:
        Length:         54' 1.6" (16.5 m)
        Height:         13' 11.25" (4.25 m)
        Wingspan:       67' 0" (20.424 m)
        Wing area:      743.245 sq. ft (69.05 sq. m)
        Empty Weight:   14,396 lbs (6530 kg)
        Loaded Weight:  23,545 lbs (10,680 kg)
        Max Weight:     25,133 lbs (11400 kg)

Propulsion:
        No. of Engines: 2
        Powerplant:     Nakajima Ha-109 14-cylinder radial
        Horsepower:     1500 hp each

Performance:
        Max Range:      1833 miles (2950 km)
        Cruise Speed:   217 mph (350 km/hr) at 9845 ft
        Max Speed:      306 mph (492 km/hr) at 16405 ft
        Climb to/in:    16405 ft (5000 m) in 13 min 39 sec
        Ceiling:        30510 ft (9300 m)
Production:		approximately 819 Ki-49s total


Additional information on this aircraft can be found at Wikipedia HERE.

For several very nice scale color drawings of this aircraft, see here (5 versions available on left).
Additional color schemes for this aircraft can be found here.


(go to Nakajima page)
If you don't see the table of contents at the left of your screen, CLICK HERE to see the rest of this website!