Aichi AI-104 Type 98 ("Ione")
---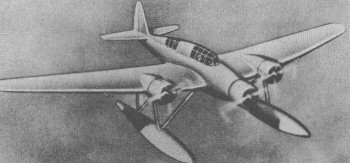 This aircraft never existed in the Japanese inventory or plans. The Allies believed that such an aircraft was available to or in use by the Japanese Navy, and so assigned it the Allied codename of "Ione". The misunderstanding (on behalf of the Allied intelligence services) is believed to be as the result of a mis-identification of the Italian CANT Z.506 Airone seaplane. However, as a non-existent aircraft it is included here only because it had an Allied codename attached to it.
Aichi AI-104 Type 98
Type:           Reconnaissance Floatplane
Service: 	Japanese Naval Air Force (JNAF)
Crew:           five
Armament:       Two 37-mm-cannon and four machine guns
		2,200 pounds of bombs
Reference: 	BASIC FIELD MANUAL MILITARY INTELLIGENCE - IDENTIFICATION OF JAPANESE AIRCRAFT March 16, 1942

Specifications:
        Length:         n/a
        Height:         n/a
        Wingspan:       87'
        Wing area:      n/a
        Empty Weight:   n/a
        Max Weight:     n/a

Propulsion:
        No. of Engines: 3
        Powerplant:     (unlisted) Aichi engines
        Horsepower:     770 hp each

Performance:
        Cruise Speed:   n/a
        Max Speed:      230 mph
        Ceiling:        24000 ft
	Range: 		1000 hours
Production:		none (never existed)

If you don't see the table of contents at the left of your screen, CLICK HERE to see the rest of this website!