Nakajima J5N1 Tenrai

---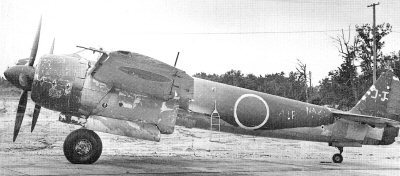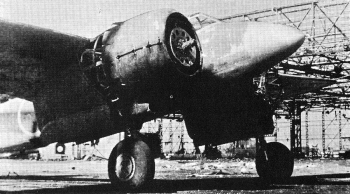 Click HERE to see a very nice painting of this aircraft by Shigeo Koike
The J5N1 was designed in 1943 as a single-seat twin-engine interceptor fighter capable of reaching 414 mph. It had a pair of 1990 hp Nakajima Homare 21 radial engines and was armed with two 20mm cannons and two 30mm cannons. During flight trials in 1944 the prototype only reached 371 mph. Six prototypes were built, but the type was not put into production.
Nakajima J5N1 Tenrai
Type:           Experimental Fighter
Service: 	Japanese Navy Air Force (JNAF)
Crew:           Pilot (two-seat version also tested)
Armament:       two 20 mm cannon and two 30 mm cannon
Reference: 	Francillon: 492, Mondey: n/a

Specifications:
        Length:         37' 7.25" (11.46 m)
        Height:         n/a
        Wingspan:       47' 3" (14.4 m)
        Wing area:      n/a
        Empty Weight:   n/a
        Loaded Weight:  16094 lbs (7300 kg)
        Max Weight:     n/a

Propulsion:
        No. of Engines: 2
        Powerplant:     Nakajima Homare 21 radial
        Horsepower:     1990 hp each

Performance:
        Range (normal): n/a
        Range (max): 	n/a
        Cruise Speed:   n/a
        Max Speed:      371 mph (322 kt) 
        Climb to/in:    n/a
        Ceiling:        n/a
Production:		six prototypes built


Additional information on this aircraft can be found at Wikipedia HERE.

For a very nice scale color drawing of this aircraft, see here.
Additional color schemes for this aircraft can be found here.
If you don't see the table of contents at the left of your screen, CLICK HERE to see the rest of this website!