Mitsubishi J8M1 Shusui (no codename)


---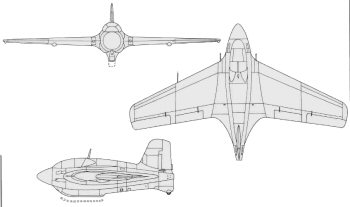 The Mitsubishi Shusui (Sword Stroke) was a design for a joint Army-Navy project for a fast-climbing interceptor fighter, prompted by the appearance over Japan of the American B-19 Superfortress bomber. The Navy version was designated the J8M1, and the Army version was designated the Ki-200. The project was based on the German Me-163b rocket-powered fighter, but unfortunately for the Japanese the submarine carrying the technical plans and the sample engine was sunk by the Allies enroute to Japan. Based on the incomplete data that arrived on a second submarine Mitsubishi took on the project in 1944 and had a mock-up ready by September of that year. A glider version for testing purposes was designated the MXY8 Akigusa (Autumn Grass), with three being built. After the testing and training program was undertaken the rocket-powered J8M1 was developed and was ready to start flight trials on July 7, 1945. On its maiden flight, however, the J8M1 crashed when the engine failed during the steep takeoff climb. Modifications were being made to the fuel system of the sixth and seventh prototypes, but the war ended before they could be tested or used. An improved model designated the Ki-202 was planned for army use, but it was never completed.
Mitsubishi J8M1
Type:           Experimental Rocket-powered Interceptor fighter
Service: 	Japanese Navy Air Force (JNAF)
Crew:           pilot
Armament:       Two wing-mounted 30mm Type 5 cannon
Reference: 	Francillon: 407, Mondey: n/a

Specifications:
        Length:         19' 10" (6.05 m)
        Height:         8' 10.25" (2.7 m)
        Wingspan:       31' 2" (9.5 m)
        Wing area:      190.843 sq. ft (17.73 sq. m)
        Empty Weight:   3318 lbs (1505 kg)
        Loaded Weight:  8565 lbs (3885 kg)

Propulsion:
        No. of Engines: 1
        Powerplant:     Toko Ro.2 (KR10) bi-fuel liquid rocket
        Power:     	3307 lb (1500 kg) thrust 

Performance:
        Powered Endurance: 5 min 30 sec
        Max Speed:      559 mph  at 32810 ft (900 km/h at 10000 m)
        Climb to/in:    32810 ft (10000 m) in 3 min 30 sec
        Ceiling:        39370 ft (12000 m)
Production:		seven J8Ms built in 1945


Additional information on this aircraft can be found at Wikipedia HERE.

For a very nice scale color drawing of this aircraft, see here (J8M1) and here (Ki-202).


(go to Mitsubishi page)
If you don't see the table of contents at the left of your screen, CLICK HERE to see the rest of this website!