Aichi E13A Type 0 ("Jake")
Watanabe E13A Type 0 ("Jake")


---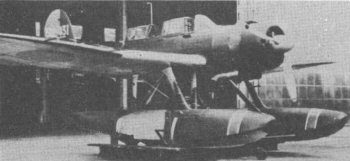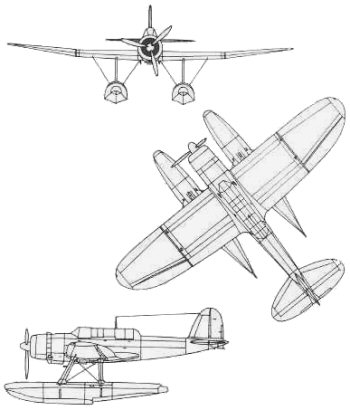 The Aichi E13A was the most important seaplane in the Japanese Navy, and a total of 1,418 aircraft were built. The plane saw service throughout World War II, and was given the Allied codename of "Jake". This single engine floatplane was designed for naval reconnaissance but saw duty in rescue service, transport, and attack. During the last months of the war the E13A was used in suicide missions as well. The plane was designed early in 1938 and made its operational debut late in 1941 during the Sino-Japanese conflict. During WWII it was well deployed from support ships, several cruisers, and the battleship Haruna.
Aichi E13A Type 0

Type:           Reconnaissance Seaplane

Service: 	Japanese Naval Air Force (JNAF)
Crew:           Pilot and two crewmen
Armament:       one flexible rear-firing 7.7mm Type 92 machine gun
		four 132 lb (60 kg) bombs or one 551 lb (250 kg) bomb
Reference: 	Francillon: 281, Mondey: 

Specifications:
        Length:         37' 1" (11.3 m)
        Height:         24' 3.4" (7.4 m)
        Wingspan:       47' 6.85" (14.5 m)
        Wing area:      387.499 sq. ft (36 sq. m)
        Empty Weight:   5825 lbs (2642 kg)
        Loaded Weight:  8025 lbs (3640 kg)
        Max Weight:     12192 lbs (4000 kg)

Propulsion:
        No. of Engines: 1
        Powerplant:     Mitsubishi Kinsei 43 14-cylinder radial
        Horsepower:     1060 hp

Performance:
        Range:          1128 nautical miles (1298 st miles)
        Cruise Speed:   138 mph (120 kt)
        Max Speed:      234 mph (203 kt)
        Climb to/in:    9845 ft (3000 m) in 6 min 5 sec
        Ceiling:        28,640 ft (8730 m)

Production:		approximately 1,237 E13As



Additional information on this aircraft can be found at Wikipedia HERE.

For a very nice scale color drawing of this aircraft, see here and here.
Additional color schemes for this aircraft can be found here.



(go to Aichi page)
If you don't see the table of contents at the left of your screen, CLICK HERE to see the rest of this website!