Nakajima B6N Tenzan ("Jill")


---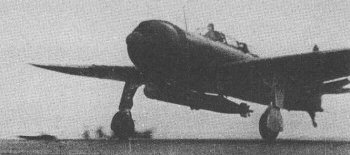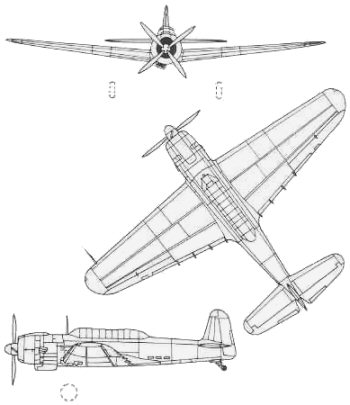 The B6N Tenzan ("Mountain of the Sky") was an excellent replacement for the Nakajima B5N "Kate" in its role as a carrier-based torpedo plane. Known as "Jill" in the Allied codename system, the large single engine plane appeared with its first prototype in the spring of 1941, before Japan went to war with the Western powers. After enduring a number of teething problems and redesign issues a total of 133 of the first version, the B6N1, were built. Late in 1943 a second production model, the B6N2, appeared. A total of 1,268 B6Ns were built.
Nakajima B6N2 Tenzan
Type:           carrier-borne attack aircraft
Service: 	Japanese Navy Air Force (JNAF)
Crew:           three
Armament:       two 7.7mm Type 97 machine guns (1 rear-firing, 1 in ventral tunnel)
		one 1764 lb (800 kg) torpedo or up to 1764 lb (800 kg) bombs
Reference: 	Francillon: 433, Mondey: 218

Specifications:
        Length:         35' 7.75" (10.865 m)
        Height:         12' 5.5" (3.8 m)
        Wingspan:       48' 10.25" (14.894 m)
        Wing area:      400.416 sq. ft (37.2 sq. m)
        Empty Weight:   6636 lbs (3010 kg)
        Loaded Weight:  11464 lbs (5200 kg)
        Max Weight:     12456 lbs (5650 kg)

Propulsion:
        No. of Engines: 1
        Powerplant:     Mitsubishi MK4T Kasei 25c 14-cylinder radial
        Horsepower:     1850 hp 

Performance:
        Range:          1892 st miles (1644 naut miles)
        Cruise Speed:   207 mph at 13125 feet (180 kt at 4900 m)
        Max Speed:      299 mph at 16075 feet (260 kt at 3600 m)
        Climb to/in:    16405 ft (5000 m) in 10 min 24 sec
        Ceiling:        29660 ft (9040 m)
Production:		approximately 1268 B6Ns total



Additional information on this aircraft can be found at Wikipedia HERE.

For several very nice scale color drawings of this aircraft, see here (3 versions available on left).
Additional color schemes for this aircraft can be found here.
If you don't see the table of contents at the left of your screen, CLICK HERE to see the rest of this website!