Kawasaki Ki.119
---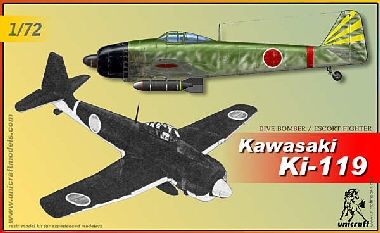 model box artwork
This was a proposed single-seat fighter design that did not go into production before the end of the war. It had been conceived as a light bomber armed with two fuselage cannons and one bomb, but alternative missions included dive bombing, and fighter escort (without bomb, but with two additional cannons in the wings). The design of the fuselage was influenced by that of the Ki-100, which also provided most of the equipment that was to be used in the aircraft. It was initially planned that the first flight would take place in September 1945, but most of the drawings were destroyed in the air attacks the Kagaigahara plant in June 1945. The first prototype was not completed before the Japanese surrender halted further work.
Kawasaki Ki.119
Type:           light bomber, dive bomber, and escort fighter
Service: 	Japanese Army Air Force (JAAF)
Crew:           Pilot
Armament:       two 20mm Ho-5 cannons in the nose
		two 20mm Ho-5 cannons in the wings, or
		one 1764 lb bomb, or two 551 lb bombs
Reference: 	Francillon: 141 

Specifications:
        Length:         38' 10.5" (11.85 m)
        Height:         14' 9.2" (4.5 m)
        Wingspan:       45' 11.1" (14 m)
        Wing area:      343.367 sq. ft (31.9 sq. m)
        Empty Weight:   8289 lbs (3670 kg)
        Loaded Weight:  13,184 lbs (5980 kg)

Propulsion:
        No. of Engines: 1
        Powerplant:     Mitsubishi Ha-104 18-cyclinder radial engine
        Horsepower:     1900 hp

Performance:
        Range (normal): 373 miles (600 km)
        Range (max): 	746 miles (1200 km)
        Cruise Speed:   249 mph (400 km/h) at 13,125 ft 
        Max Speed:      360 mph (580 km/h) at 19,685 ft (6000 m)
        Climb to/in:    19,685 ft (6000 m) in 6 min 6 sec
        Ceiling:        34,450 ft (10,500 m)
Production:		none produced
If you don't see the table of contents at the left of your screen, CLICK HERE to see the rest of this website!