Kawasaki Ki.78


---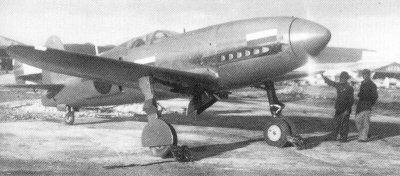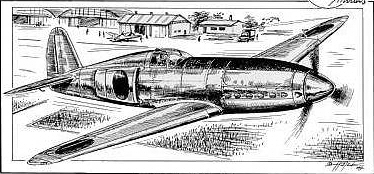 Model box artwork
This aircraft project began in 1938 as a civil aircraft for use in a high-speed research program and for a possible attempt to break the world speed record. After being taken over as a Japanese Army air force project it received the designation Ki-78. Only one prototype was completed, and it first flew on December 26, 1942. Poor handling characteristics and a lower top speed than desired (434 mph versus 528 mph anticipated) led to a cancellation of the project in 1944.
Kawasaki Ki.78
Type:           hi-speed research plane
Service: 	Japanese Army Air Force (JAAF)
Crew:           Pilot
Armament:       none
Reference: 	Francillon: 125, Mondey: n/a

Specifications:
        Length:         26' 7" (8.1 m)
        Height:         10' 1" (3.07 m)
        Wingspan:       26' 3" (8 m)
        Wing area:      118.403 sq. ft (11 sq. m)
        Empty Weight:   4255 lbs (1930 kg)
        Loaded Weight:  5071 lbs (2300 kg)

Propulsion:
        No. of Engines: 1
        Powerplant:     Daimler-Benz DB 601A 12-cyclinder inverted-vee liquid-cooled engine
        Horsepower:     1175 hp

Performance:
        Range:          373 miles (600 km)
        Cruise Speed:   n/a
        Max Speed:      435 mph (700 km/h) at 11,485 ft (3500 m)
        Climb to/in:    n/a
        Ceiling:        26,245 ft (8000 m)
Production:		one Ki-78 completed




For a very nice scale color drawing of this aircraft, see here.
Additional color schemes for this aircraft can be found here.

If you don't see the table of contents at the left of your screen, CLICK HERE to see the rest of this website!