Mitsubishi Ki.83 (no codename)


---

Above photo: captured Ki-83 under evaluation by U.S. test pilots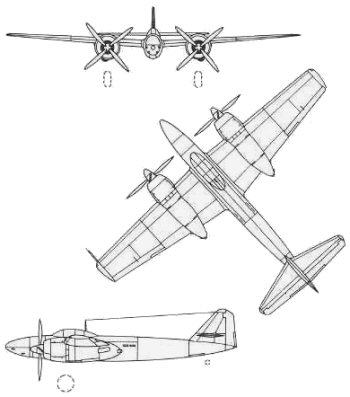 This exceptionally clean aircraft was designed to meet a May 1943 specification for a long-range escort fighter. The designer Tomio Kubo used his experience with the Ki-46 aircraft to design the Ki-83. The first prototype was completed in October 1944, and its maiden flight was on November 18, 1944. Testing showed the aircraft to have spectacular performance and exceptional maneuverability for its size. The JNAF expressed an interest in acquiring part of the proposed production run, and other versions were also put into the planning stages (including the more advanced version known as the Ki-103, and the Ki-95 which was to replace the Ki-46 command reconnaissance plane). Production of the Ki-83 or its derivatives never took place, however, as by that stage of the war the Japanese had a greater need for interceptor fighters.
Mitsubishi Ki.83
Type:           long-range high-altitude fighter
Service: 	Japanese Army Air Force (JAAF)
Crew:           two
Armament:       two 20 mm Ho-5 cannon in lower forward fuselage
		two 30 mm Ho-105 cannon in lower forward fuselage
		two 110 lb (50 kg) bombs carried internally
Reference: 	Francillon: 193, Mondey: n/a

Specifications:
        Length:         41' 0" (12.5 m)
        Height:         15' 1" (4.6 m)
        Wingspan:       50' 10.25" (15.5 m)
        Wing area:      360.805 sq. ft (33.52 sq. m)
        Empty Weight:   13184 lbs (5980 kg)
        Loaded Weight:  19390 lbs (8795 kg)
        Max Weight:     20790 lbs (9430 kg)

Propulsion:
        No. of Engines: 2
        Powerplant:     Mitsubishi Ha-211 18-cylinder radial
        Horsepower:     2200 hp each

Performance:
        Range (normal): 1213 miles (1953 km)
        Range (max): 	2175 miles (3500 km)
        Cruise Speed:   280 mph (450 km/h) at 13,125 ft (4000 m) 
        Max Speed:      438 mph (704.5 km/h) at 29,530 ft (9000 m)
        Climb to/in:    32,810 ft (10000 m) in 10 min 0 sec
        Ceiling:        41,535 ft (12,660 m)
Production:		four Ki-83 prototypes built


Additional information on this aircraft can be found at Wikipedia HERE.

For a very nice scale color drawing of this aircraft, see here.

If you don't see the table of contents at the left of your screen, CLICK HERE to see the rest of this website!