Kawasaki Ki.48 Type 99 ("Lilly")


---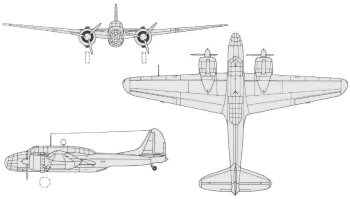 This light bomber of the Japanese army went into action in China in 1940. It met hardly any opposition from the enemy and proved very satisfactory. But the situation changed when Japan went to war against the Western powers. Despite several attempts to modify the plane, it was insufficiently armed and became easy prey to Allied fighters. Between July, 1940 and October, 1944, however, a total of 1,977 Ki-48s were built, with almost three-fourths of the planes being produced in the Ki-48-II version. Like so many other Japanese planes, the "Lilly" (as it was called by the Allies) was used in suicide missions at the end of the war, especially in the Okinawa campaign.
Kawasaki Ki.48-II Type 99
Type:           Light Bomber
Service: 	Japanese Army Air Force (JAAF)
Crew:           four
Armament:       three 7.7mm Type 89 machine guns (nose, dorsal, ventral)
		(alternately, dorsal turret could have one 12.7mm Type 1 machine gun)
		1764 lb (800 kg) of bombs maximum
Reference: 	Francillon: 107, Mondey: 

Specifications:
        Length:         41' 9.75" (12.75 m)
        Height:         12' 5.6" (3.8 m)
        Wingspan:       57' 3" (17.5 m)
        Wing area:      430.555 sq. ft (40 sq. m)
        Empty Weight:   10,031 lbs (4550 kg)
        Loaded Weight:  14,330 lbs (6500 kg)
        Max Weight:     14,881 lbs (6750 kg)

Propulsion:
        No. of Engines: 2
        Powerplant:     Nakajima Ha-115 14-cylinder radial
        Horsepower:     1150 hp each

Performance:
        Max Range:      1491 miles (2400 km)
        Cruise Speed:   n/a
        Max Speed:      314 mph (505 km/hr) at 18375 ft
        Climb to/in:    16405 ft (5000 m) in 8 min 30 sec
        Ceiling:        33135 ft (10100 m)
Production:		approximately 1,977 Ki-48s total


Additional information on this aircraft can be found at Wikipedia HERE.

For several very nice scale color drawings of this aircraft, see here (8 versions available on left).
Additional color schemes for this aircraft can be found here.

If you don't see the table of contents at the left of your screen, CLICK HERE to see the rest of this website!