Nakajima G5N Shinzan ("Liz")

---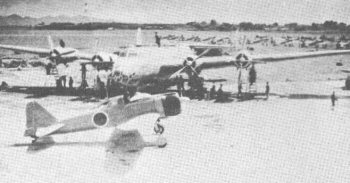 (bomber in background)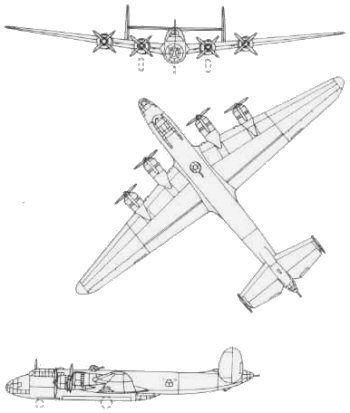 Click HERE to see a very nice painting of this aircraft by Shigeo Koike
History of this aircraft will be added sometime in the future....
Nakajima G5N2 Shinzan
Type:           land attack aircraft - heavy bomber

Service: 	Japanese Navy Air Force (JNAF)
Crew:           seven to ten
Armament:       four 7.7mm Type 92 machine guns (1 in nose, ventral, and 2 in waist)
		two 20mm Type 99 cannon (1 each in dorsal and tail turrets)
		up to 4409 lb (2000 kg) bombs
Reference: 	Francillon: 425, Mondey: 

Specifications:
        Length:         101' 9.25" (31.02 m)
        Height:         n/a
        Wingspan:       138' 3" (42.14 m)
        Wing area:      2172.149 sq. ft (201.8 sq. m)
        Empty Weight:   44,313 lbs (20,100 kg)
        Loaded Weight:  62,060 lbs (28,150 kg)
        Max Weight:     70,768 lbs (32000 kg)

Propulsion:
        No. of Engines: 4
        Powerplant:     Mitsubishi Kasei 12 14-cylinder radial
        Horsepower:     1530 hp each

Performance:
        Range:          2694 miles (4335 km)
        Cruise Speed:   230 mph (200 km/hr) at 13125 ft
        Max Speed:      261 mph (227 kt) at 13450 ft
        Climb to/in:    6560 ft (2000 m) in 5 min 17 sec
        Ceiling:        24440 ft (7450 m)
Production:		four G5N1s and two G5N2s 


Additional information on this aircraft can be found at Wikipedia HERE.

For a very nice scale color drawing of this aircraft, see here and here.
Additional color schemes for this aircraft can be found here.

If you don't see the table of contents at the left of your screen, CLICK HERE to see the rest of this website!