Kyushu Q1W1 Tokai ("Lorna")


---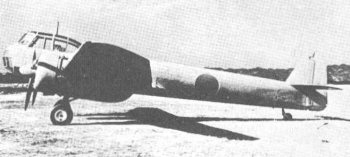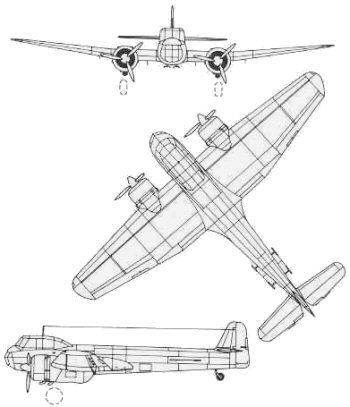 The Kyushu Q1W Tokai, which closely resembled the German Junkers Ju-88 was the first and only Japanese airplane designed expressly for antisubmarine warfare during World War II. The project started in 1942, and the first prototype of the Tokai ("Eastern Sea") was ready in September, 1943. Production was not authorized until early 1944, and relatively few planes were built before the war ended, a total of 153. The Tokai never proved to be particularly effective; the plane, known as "Lorna" in the Allied code, was not fast enough and carried too little defensive armament to stand up to Allied fighters.
Kyushu Q1W1 Tokai
Type:           Submarine patrol aircraft
Crew:           three
Armament:       one flexible rear-firing 7.7mm Type 92 machine gun
		(optional) 1-2 20mm Type 99 cannons
		two 551 lbs (250 kg) bombs
Reference: 	Francillon: 332, Mondey: 

Specifications:
        Length:         39' 8" (12.09 m)
        Height:         13' 6" (4.12 m)
        Wingspan:       52' 6" (16 m)
        Wing area:      411 sq. ft (38.2 sq. m)
        Empty Weight:   6839 lbs (3102 kg)
        Loaded Weight:  10580 lbs (4800 kg)
        Max Weight:     11720 lbs (5318 kg)

Propulsion:
        No. of Engines: 2
        Powerplant:     Hitachi Amakaze-31 9-cylinder radial engine
        Horsepower:     610 hp each

Performance:
        Range:          725 naut miles, 834 st miles (1342 km)
        Cruise Speed:   150 mph (130 kt) at 3280 ft
        Max Speed:      201 mph (322 km/hr, 174 kt) at 4395 ft
        Climb to/in:    6560 ft (2000 m) in 8 min 44 sec
        Ceiling:        14730 ft (4490 m)
Production:		approximately 153 Q1Ws total


Additional information on this aircraft can be found at Wikipedia HERE.

For a very nice scale color drawing of this aircraft, see here.
Additional color schemes for this aircraft can be found here.

If you don't see the table of contents at the left of your screen, CLICK HERE to see the rest of this website!