Mitsubishi B5M ("Mabel")


---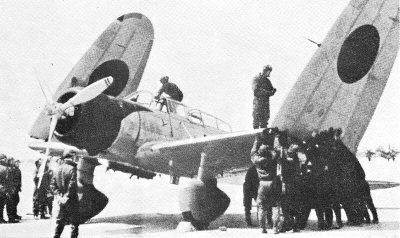 Meant to fill the same role as the Nakajima B5N1 "Kate", the competing design made by Mitsubishi was of a more conventional design. It resembled the Kate in many ways, though the obvious difference was in the fixed landing gear with spats. When put into production it was designated as the Navy Type 97 Carrier Bomber Model 2. Though initially favored by the Navy, production was terminated after only 125 examples when the Nakajima B5N proved to be highly successful. During the Pacific War the B5M1s were operated from land bases in Southeast Asia period before being relegated to ancillary duties.
Mitsubishi B5M1 Type 97-2
Type:           carrier-based bomber
Service: 	Japanese Navy Air Force (JNAF)
Crew:           three
Armament:       one flexible rear-firing 7.7mm machine gun
		one 1764 lb (800 kg) torpedo or up to 1764 lb (800 kg) bombs
Specifications:
        Length:         33' 10.5" (10.234 m)
        Height:         n/a
        Wingspan:       50' 2 3/8" (15.3 m)
        Wing area:      n/a
        Empty Weight:   n/a
        Max Weight:     8818 lbs (4000 kg)

Propulsion:
        No. of Engines: 1
        Powerplant:     Mitsubishi Kinsei 43 radial engine
        Horsepower:     1000 hp 

Performance:
        Range:          1188 nautical miles (1367 st miles)
        Cruise Speed:   n/a
        Max Speed:      237 mph (205 km/hr) at 7220 ft
        Climb to/in:    n/a
        Ceiling:        n/a
Production:		approximately 125 B5M1s


Additional information on this aircraft can be found at Wikipedia HERE.

For a very nice scale color drawing of this aircraft, see here.
Additional color schemes for this aircraft can be found here.

If you don't see the table of contents at the left of your screen, CLICK HERE to see the rest of this website!