Kawasaki Ki.32 Type 98 ("Mary")


---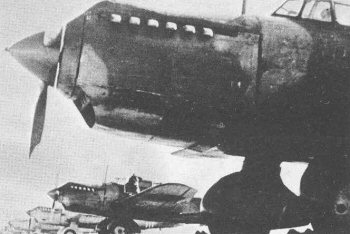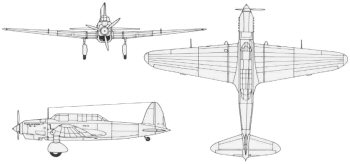 History of this aircraft will be added sometime in the future....
Kawasaki Ki.32 Type 98
Type:           Light Bomber
Crew:           2 Pilot / bombardier
Armament:       one forward firing 7.7mm type 89 machine gun
		one rear firing 7.7mm type 89 machine gun
		up to 992 lbs (450 kg) of bombs

Specifications:
        Length:         38' 2" (11.64 m)
        Height:         9' 6" (2.9 m)
        Wingspan:       49' 2.5" (15 m)
        Wing area:      365-972  sq. ft (34 sq. m)
        Empty Weight:   5,179 lbs (2349 kg)
	Loaded Weight:  7,802 lbs (3539 kg)
        Gross Weight:   n/a
        Max Weight:     n/a

Propulsion:
        No. of Engines: 1
        Powerplant:     Army type Ha-9-IIb twelve cylinder vee liquid-cooled engine
        Horsepower:     850 hp at takeoff

Performance:
        Range:          1218 miles (1960 km)
        Cruise Speed:   n/a
        Max Speed:      263 mph (423 km/hr) at 12,925 feet
        Climb:          to 16405 ft (5000 m) in 10 min 55 sec
        Ceiling:        29265 ft (8920 m)



Additional information on this aircraft can be found at Wikipedia HERE.

For a very nice scale color drawing of this aircraft, see here.
Additional color schemes for this aircraft can be found here.

If you don't see the table of contents at the left of your screen, CLICK HERE to see the rest of this website!