Kawanishi H6K Type 97 ("Mavis")


---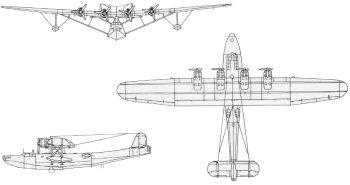 The Kawanishi H6K, which originated in 1933, saw service throughout World War II and was one of Japan's finest long-range naval reconnaissance planes. The 215 aircraft in various models built between 1938 and 1942 were also put to other duty, including transport and even bombing. When the war first broke out there were 68 of these large seaplanes on front-line duty. While they were occasionally used for bombing in the first few months of the war, bombing missions soon became dangerous for the H6K. The seaplane was very vulnerable, for there was no way to protect the crew and the fuel tanks were not self-sealing. This led to the aircraft being used primarily in the war for reconnaissance. These seaplanes, known as "Mavis" to the Allies, were extremely useful in ocean reconnaissance because of their great range.
Kawanishi H6K4
Type:           Flying Boat
Service: 	Japanese Navy Air Force (JNAF)
Crew:           nine
Armament:       four 7.7mm Type 92 machine guns (bow, dorsal, and 2 in waist)
		one 20mm Type 99 cannon in tail turret
		two 1764 lb (800 kg) torpedoes or up to 2205 lb (1000 kg) bombs
Reference: 	Francillon: 306, Mondey: 203

Specifications:
        Length:         84' 8.75" (25.625 m)
        Height:         20' 6.75" (6.27 m)
        Wingspan:       131' 2.75" (40 m)
        Wing area:      1829.858 sq. ft (170 sq. m)
        Empty Weight:   25,810 lbs (11707 kg)
        Max Weight:     47,399 lbs (21500 kg)

Propulsion:
        No. of Engines: 4
        Powerplant:     Mitsubishi Kinsei 46 14-cylinder radial
        Horsepower:     930 hp each

Performance:
        Normal Range:   2981 st miles (2590 nautical miles)
        Max Range:      3779 st miles (3283 nautical miles)
        Cruise Speed:   138 mph (120 kt/hr) at 13125 ft (4000 m)
        Max Speed:      211 mph (183.5 kt/hr) at 13125 ft (4000 m)
        Climb to/in:    16405 ft (5000 m) in 13 min 31 sec
        Ceiling:        31530 ft (9610 m)
Production:		approximately 215 H6Ks total


Additional information on this aircraft can be found at Wikipedia HERE.

For several very nice scale color drawings of this aircraft, see here (3 versions available on left).
Additional color schemes for this aircraft can be found here.



(go to Kawanishi page)
If you don't see the table of contents at the left of your screen, CLICK HERE to see the rest of this website!