Kawasaki Ki.45 Type 2 ("Nick")


---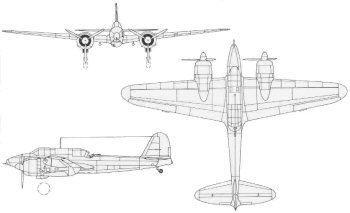 Click HERE to see a more detailed 3-view of the
Nick
In early 1937 Kawasaki designed the Ki-38 to meet a specification for a twin-engine long-range fighter inspired in part by the German Bf 110 fighter. Testing of this mock-up resulted in so many changes that a complete redesign was started. The Kawasaki Ki-45 Toryu (Dragon-Killer) was a result of this project, with the first prototype being flown in January 1939. Further testing showed problems with the landing gear and that the engine was not powerful enough, and after extensive development the type finally entered production in September of 1941. The Ki-45 entered service in August of 1942 and saw its first combat in October of 1942, receiving the Allied codename of "Nick". In addition to the heavy fighter role, the Nick was developed in alternate versions that included ground attack, anti-shipping, and night fighter. It was in the later role that the Ki-45 proved to be one of the most successful Japanese night fighters. The Nick remained in service until the end of the war, and even had the claim to fame that the type was used in the first kamikaze attack of the war on May 27, 1944.
Kawasaki Ki.45 KAIc (night fighter)
Type:           Heavy Fighter / Ground Attack / Night Fighter
Service: 	Japanese Army Air Force (JAAF)
Crew:           2 (Pilot and gunner)
Armament:       two obliquely mounted 20 mm Ho-5 cannon
		one ventral 37 mm Ho-203 cannon
		one rear-firing flexible 7.92 mm Type 98 machine gun
		two 551 lb (250 kg) bombs externally
Reference: 	Francillon: 93, Mondey: 141

Specifications:
        Length:         36' 1" (11 m)
        Height:         12' 1.75" (3.7 m)
        Wingspan:       49' 3.25" (15.02 m)
        Wing area:      344.444 sq. ft (32 sq. m)
        Empty Weight:   8818 lbs (4000 kg)
        Loaded Weight:  12125 lbs (5500 kg)

Propulsion:
        No. of Engines: 2
        Powerplant:     Mitsubishi Ha-102 14-cylinder radial
        Horsepower:     1050 hp each

Performance:
        Range (normal): 1243 miles (2000 km)
        Range (max): 	1347 miles (2168 km)
        Cruise Speed:   n/a 
        Max Speed:      335.5 mph (540 km/h) at 19,685 ft (6000 m)
        Climb to/in:    16,405 ft (5000 m) in 7 min 0 sec
        Ceiling:        32,810 ft (10,000 m)
Production:		approximately 1701 Ki-45s total

Additional information on this aircraft can be found at Wikipedia HERE.

For several nice scale color drawings of this aircraft, see here (9 versions available on left).
Additional color schemes for this aircraft can be found here.

If you don't see the table of contents at the left of your screen, CLICK HERE to see the rest of this website!