Mitsubishi K3M3 Type 90-2 ("Pine")
Watanabe K3M3 Type 90-2 ("Pine")

---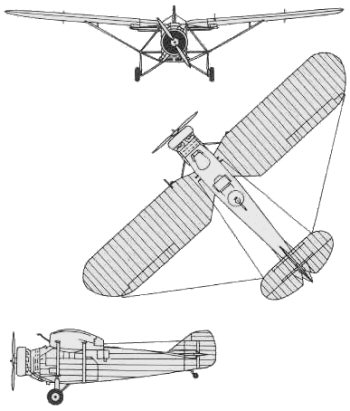 The Mitsubishi K3M2 was a trainer built by Mitsubishi which was used widely in the Imperial Japanese Navy from World War I through the end of World War II in an extremely wide variety of roles, including light transport, liaison aircraft, utility aircraft and occasionally light bomber. The prototype, designated Mitsubishi 4MS1, made its maiden flight in 1930. The aircraft was strut-braced high-wing cabin monoplane, with fixed wide-track landing gear, and was powered by a single 300 hp (220 kW) water-cooled radial piston engine. Pilot and gunner were located in separate open cockpits, with an instructor and two pupils in the enclosed cabin in the fuselage. Later passenger variants seated five passengers in the cabin. The Navy Type 90 Crew Trainer was primarily a land-based aircraft; however, a few were converted with floats for use as seaplanes. The Imperial Japanese Army Air Force had an interest in the aircraft as part of its modernization program, and as a potential supplement to the Nakajima Ki-6. Two examples were acquired and tested, and the airframe was given the designation of Ki-7. One prototype used a 475 hp (350 kW) Mitsubishi Type 92 nine-cylinder air-cooled radial engine and the other a 450 hp (340 kW) Nakajima Kotobuki nine-cylinder air-cooled radial engine. However, the IJAAF opted not to go into production with either version. Production of the K3M for the Navy continued until 1941, and total production of all versions was around 625 aircraft. Its Allied code name was "Pine".

Mitsubishi K3M3 Type 90-2

Type: 		crew Trainer          
Service: 	Japanese Navy Air Force (JNAF)
Crew:           Pilot & gunner, plus instructor and 2 students
Armament:       one flexible rear-firing 7.7mm machine gun
		four 66 lb (30 kg) bombs
Reference: 	Francillon: 339

Specifications:
        Length:         31' 3.3" (9.54 m)
        Height:         12' 6.5" (3.82 m)
        Wingspan:       51' 9.25" (15.78 m)
        Wing area:      371.354 sq. ft (34.5 sq. m)
        Empty Weight:   2998 lbs (1360 kg)
        Loaded Weight:  4850 lbs (2200 kg)

Propulsion:
        No. of Engines: 1
        Powerplant:     Nakajima Kotobuki 2 KAI 1 9-cylinder radial
        Horsepower:     580 hp 

Performance:
        Range:          432 nautical miles (497 st miles)
        Cruise Speed:   n/a 
        Max Speed:      146 mph (127 kt) at 3280 ft (1000 m)
        Climb to/in:    16405 ft (5000 m) in 9 min 30 sec
        Ceiling:        20965 ft (6390 m)
Production:		approximately 624 K3Ms


Additional information on this aircraft can be found at Wikipedia HERE.

For a very nice scale color drawing of this aircraft, see here.
Additional color schemes for this aircraft can be found here.
If you don't see the table of contents at the left of your screen, CLICK HERE to see the rest of this website!