Kawasaki Ki.102 ("Randy")


---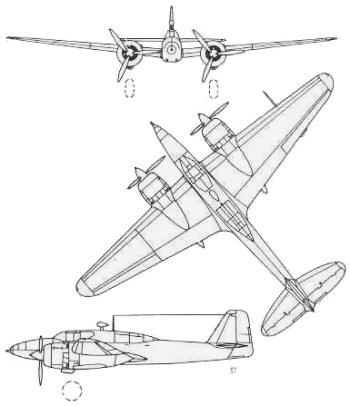 Click HERE to see a more detailed 3-view of the Randy
The Kawasaki Ki-102 was designed in late 1943 to replace the Ki-45 Toryu in all its functions: heavy fighter, ground attack, and night fighter. It would have been an excellent replacement had its development not coincided with the increasing failure of Japan's war effort. A total of 241 of the fast two-engine planes were built in three versions. The Ki-102b (first to go into production) was designed for ground attack, and a total of 215 of this type were built. The Ki-102a was a heavy fighter, and 26 examples of this were built. The Ki-102c was the night fighter version, but it never got past the prototype stage.
Kawasaki Ki.102b
Type:           Ground Attack 
Service: 	Japanese Army Air Force (JAAF)
Crew:           2 (Pilot and radio-operator)
Armament:       two 20 mm Ho-5 cannon in the fuselage belly 
		one 57 mm Ho-401 cannon in the nose
		one rear-firing flexible 12.7 mm Ho-103 machine gun
		two 551 lb (250 kg) bombs externally
Reference: 	Francillon: 137, Mondey: 

Specifications:
        Length:         37' 6.75" (11.45 m)
        Height:         12' 1.75" (3.7 m)
        Wingspan:       51' 1" (15.57 m)
        Wing area:      365.972 sq. ft (34 sq. m)
        Empty Weight:   10,913 lbs (4950 kg)
        Loaded Weight:  16,094 lbs (7300 kg)

Propulsion:
        No. of Engines: 2
        Powerplant:     Mitsubishi Ha-112-II 14-cylinder radial
        Horsepower:     1500 hp each

Performance:
        Range: 		1243 miles (2000 km)
        Cruise Speed:   n/a 
        Max Speed:      360 mph (580 km/h) at 19,685 ft (6000 m)
        Climb to/in:    16,405 ft (5000 m) in 6 min 54 sec
        Ceiling:        32,810 ft (10,000 m)
Production:		approximately 238 Ki-102s total
Additional information on this aircraft can be found at Wikipedia HERE.

For several very nice scale color drawings of this aircraft, see here (4 versions available on left).
Additional color schemes for this aircraft can be found here.
If you don't see the table of contents at the left of your screen, CLICK HERE to see the rest of this website!