Kawanishi N1K1 Kyofu ("Rex")


---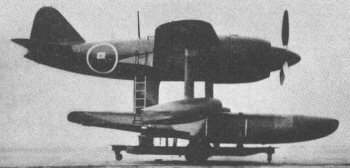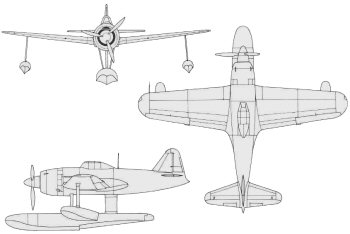 This was the seaplane fighter from which the Kawanishi N1K1-J Shiden was developed. The Kyofu ("Powerful Wind") was extremely advanced in design and was fast and powerfully armed. It could have become an exceptional plane, but the course of the war eliminated the role for which it was designed. Delays in development and production kept this plane out of the field until 1943. Only 97 of these planes were built between July 1943 and March 1944. During that short time it proved to be an excellent aircraft, and its qualities were further improved in the the land-based N1K1-J, which succeeded it. The N1K floatplane was known as "Rex" in the Allied codename system.
Kawanishi N1K1 Kyofu
Type:           Fighter Seaplane
Service: 	Japanese Navy Air Force (JNAF)
Crew:           Pilot
Armament:       two 7.7mm Type 97 machine guns in nose
		two wing-mounted 20mm Type 99 Model 2 cannons
 		66 lbs (30 kg) of bombs
Reference: 	Francillon: 320, Mondey: 137

Specifications:
        Length:         34' 9.25" (10.60 m)
        Height:         15' 7" (4.75 m)
        Wingspan:       39' 4.5" (12 m)
        Wing area:      252.96 sq. ft (23.5 sq. m)
        Empty Weight:   6067 lbs (2752 kg)
        Max Weight:     8184 lbs (3712 kg)

Propulsion:
        No. of Engines: 1
        Powerplant:     Mitsubishi MK4E Kasei 15 14-cylinder radial
        Horsepower:     1530 hp

Performance:
        Range (max): 	1034 miles (1665 km)
        Cruise Speed:   230 mph (370 km/hour) at 6560 ft
        Max Speed:      304 mph (490 km/hour) at 18,700 ft
        Climb to/in:    16405 ft (5000 m) in 5 min 32 sec
        Ceiling:        34,645 ft (10,560 m)
Production:		approximately 97 N1K1s total (including prototypes)


Additional information on this aircraft can be found at Wikipedia HERE.

For a very nice scale color drawing of this aircraft, see here and here.
Additional color schemes for this aircraft can be found here.
If you don't see the table of contents at the left of your screen, CLICK HERE to see the rest of this website!