Nakajima A6M2-N Type 2 ("Rufe")


---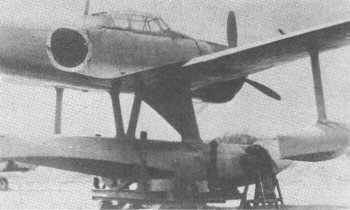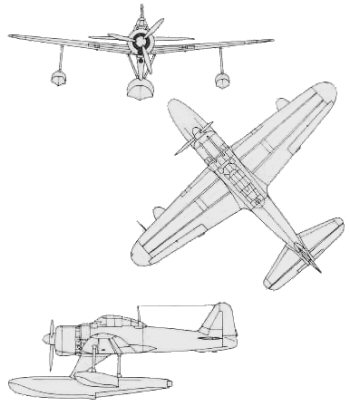 Click HERE to see a more detailed 3-view of the Rufe
The Nakajima A6M2-N, known to the Allies as the "Rufe", was merely the seaplane version of the carrier-based Mitsubishi A6M Reisen fighter, the famous Zero. The Japanese Navy saw the need for this type of combat aircraft in 1940. What was required was a single-seat fighter that could be used primarily in military installations on small Pacific islands, where it was impossible to build landing fields. The design was entrusted to Nakajima, which was already building Zeros along with the Mitsubishi company. The new plane was almost identical in structure and configuration with the Zero, except for the central and side floats and some minor structural changes. And its performance was not greatly inferior to that of the Zero. A total of 327 aircraft were built between 1941 and 1943. They were in service until the end of the war.
Nakajima A6M2-N Type 2

Type:           Fighter Seaplane
Service: 	Japanese Navy Air Force (JNAF)
Crew:           pilot
Armament:       two 7.7mm Type 92 machine guns in the nose
		two 20mm Type 99 cannon in the wings
		two 132 lb (60 kg) bombs 
Reference: 	Francillon: 428, Mondey: 194

Specifications:
        Length:         33' 1.5" (10.1 m)
        Height:         14' 1.25" (4.3 m)
        Wingspan:       39' 4.5" (12 m)
        Wing area:      241.541 sq. ft (22.44 sq. m)
        Empty Weight:   4235 lbs (1912 kg)
        Loaded Weight:  5423 lbs (2460 kg)
        Max Weight:     6349 lbs (2880 kg)

Propulsion:
        No. of Engines: 1
        Powerplant:     Nakajima NK1C Sakae 12 14-cylinder radial
        Horsepower:     940 hp 

Performance:
        Range:          1107 naut miles (963 st miles)
        Cruise Speed:   184 mph (160 kt)
        Max Speed:      270.5 mph  at 16405 ft (235 kt at 5000 m)
        Climb to/in:    16405 ft (5000 m) in 6 min 43 sec
        Ceiling:        32810 ft (10000 m)
Production:		approximately 327 A6M2-Ns total


Additional information on this aircraft can be found at Wikipedia HERE.

For a very nice scale color drawing of this aircraft, see here.
If you don't see the table of contents at the left of your screen, CLICK HERE to see the rest of this website!