Mitsubishi Ki.21 Type 97 ("Sally")

---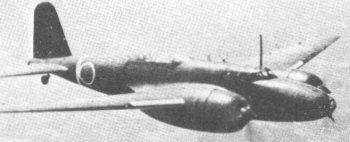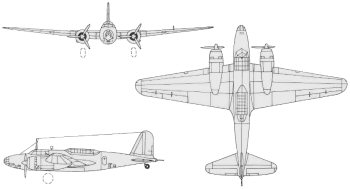 The Mitsubishi Ki-21 was certainly not as famous as the G3M and G4M bombers, but it was the "draft horse" of the Japanese army air force did much to put the army air force on a par with that of the navy. The first prototype took to the air on December 18, 1936, with production on the first version beginning in November, 1937. The Ki-21 was on front-line duty throughout the war even though Allied aircraft gradually became far superior to it. Between March, 1938, and September, 1944, a total of 2,064 of these bombers came off the production line. Ki-21s took part in most all of the major Japanese operations during the war. The Allied codename for the Ki-21 was "Sally".
Mitsubishi Ki.21-IIb
Type:           Heavy Bomber
Service: 	Japanese Army Air Force (JAAF)
Crew:           five to seven
Armament:       five 7.7mm Type 92 machine guns (nose, ventral, tail, 2 in waist)
		one 12.7mm Type 1 machine gun in dorsal turret
		2205 lb (1000 kg) of bombs maximum
Reference: 	Francillon: 162, Mondey: 207

Specifications:
        Length:         52' 6" (16 m)
        Height:         15' 11" (4.85 m)
        Wingspan:       73' 10" (22.5 m)
        Wing area:      749.165 sq. ft (69.6 sq. m)
        Empty Weight:   13,382 lbs (6070 kg)
        Max Weight:     21,407 lbs (9710 kg)

Propulsion:
        No. of Engines: 2
        Powerplant:     Mitsubishi Ha-101 14-cylinder radial
        Horsepower:     1500 hp each

Performance:
        Max Range:      1680 miles (2700 km)
        Cruise Speed:   236 mph (380 km/hr) at 15485 ft
        Max Speed:      302 mph (486 km/hr) at 16405 ft
        Climb to/in:    19685 ft (6000 m) in 13 min 13 sec
        Ceiling:        32810 ft (10000 m)
Production:		approximately 2064 Ki-21s total


Additional information on this aircraft can be found at Wikipedia HERE.

For a very nice scale color drawing of this aircraft, see here.
Additional color schemes for this aircraft can be found here.
If you don't see the table of contents at the left of your screen, CLICK HERE to see the rest of this website!