Mitsubishi A7M Reppu ("Sam")


---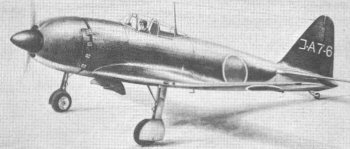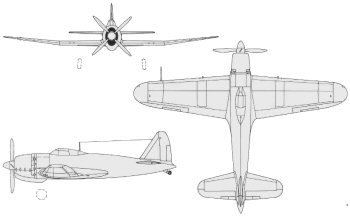 The A7M Reppu (translation: "Hurricane") was designed to be the successor to the Mitsubishi A6M Reisen as a carrier-based fighter for the Japanese Navy, but it never went into service. Specifications were issued in 1940, but Mitsubishi only completed nine prototypes and one production model before the war ended. One of the many reasons for the delay was a disagreement over the engine to be used. When the first prototype took to the air in May of 1944, it failed to reach the required level of performance because of the engine. A different engine was installed, and in October of 1944 the new version fulfilled all of the specifications, and production was authorized. However, in December the factory that was to build the engines was seriously damaged in an earthquake and then further damaged by B-29 air raids. Most of the prototypes were also destroyed. Although the aircraft never became operational, the Allies assigned it the codename of "Sam".
Mitsubishi A7M2 Reppu
Type:           Carrier-borne or land-based Fighter
Service: 	Japanese Navy Air Force (JNAF)
Crew:           pilot
Armament:       two 13.2mm Type 3 machine guns in the wings and
		two 20mm Type 99 cannon in the wings
		(alternately, four 20mm cannons and no machine guns)
		551 lbs of bombs (two 250 kg bombs) externally 
Reference: 	Francillon: 403, Mondey: n/a

Specifications:
        Length:         36' 1" (11 m)
        Height:         14' 0" (4.28 m)
        Wingspan:       45' 11.25" (14 m)
        Wing area:      322.173 sq. ft (30.86 sq. m)
        Empty Weight:   7116 lbs (3226 kg)
        Loaded Weight:  10406 lbs (4720 kg)
        Max Weight:     n/a

Propulsion:
        No. of Engines: 1
        Powerplant:     Mitsubishi MK9A 18-cylinder radial
        Horsepower:     2200 hp 

Performance:
        Cruise Speed:   259 mph at 13,125 ft (225 kt at 4000 m)
        Max Speed:      390 mph at 21,655 ft (339 kt at 6600 m)
        Climb to/in:    19685 ft (6000 m) in 6 min 7 sec
        Ceiling:        35760 ft (10900 m)
        Endurance:      2.5 hours at cruising + 30 min combat

Production:		10 A7Ms total (9 prototypes, 1 production)



Additional information on this aircraft can be found at Wikipedia HERE.

For a very nice scale color drawing of this aircraft, see here.
Additional color schemes for this aircraft can be found here.

If you don't see the table of contents at the left of your screen, CLICK HERE to see the rest of this website!