Mitsubishi Ki.51 Type 99 ("Sonia")


---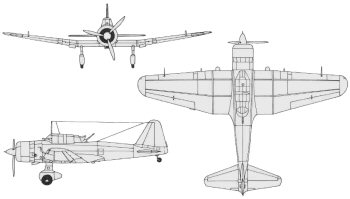 Click HERE to see color drawings of the Sonia
Click HERE to see a very nice painting of this aircraft by Shigeo Koike
Between 1940 and July 1945, a total of 2,385 Mitsubishi Ki-51s came off of the production line. But the "Sonia", as it was called by the Allies, was never a genuinely outstanding aircraft. Nevertheless its toughness, reliability, and maneuverability made it a fine ground attack and support plane. In this role the Ki-51 saw duty throughout the Pacific. Work began on the project late in 1937 in response to an army request for a ground attack plane derived from the earlier Ki-30 light bomber. Specifications called for maneuverability, good crew protection, and the ability to operate from emergency airstrips located near combat lines. The Ki-51 resembled its predecessor although it was smaller. It made its operational debut in China, and by the time World War II broke out, most operational units were equipped with the plane. Once once was an attempt made to improve on the plane. That occurred in 1941, when a design known as the Ki-71 was built a more powerful engine and retractable landing gear. This new aircraft was only marginally better and never got past the prototype stage. Meanwhile the Ki-51s continued to serve in front-line duties throughout the war, despite the appearance of more modern Allied aircraft. In the last months of the war Ki-51s were used as suicide planes.
Mitsubishi Ki.51 Type 99
Type:           Attack Reconnaissance
Service: 	Japanese Army Air Force (JAAF) 
Crew:           Pilot and gunner
Armament:       two wing-mounted 12.7mm Type 1 machine guns
		one flexible rear-firing 7.7mm Type 89 machine gun
		441 lbs (200 kg) of bombs externally
Reference: 	Francillon: 181, Mondey: 

Specifications:
        Length:         30' 2.6" (9.21 m)
        Height:         8' 11.5" (2.73 m)
        Wingspan:       39' 8.4" (12.1 m)
        Wing area:      258.548 sq. ft (24.02 sq. m)
        Empty Weight:   4129 lbs (1873 kg)
        Loaded Weight:  6169 lbs (2798 kg)
        Max Weight:     6415 lbs (2920 kg)

Propulsion:
        No. of Engines: 1
        Powerplant:     Mitsubishi Ha-26-II 14-cylinder radial
        Horsepower:     940 hp

Performance:
        Range:          660 miles (1060 km)
        Cruise Speed:   n/a
        Max Speed:      263 mph (424 km/hr) at 9,845 ft (3000 m)
        Climb to/in:    16405 ft (5000 m) in 9 min 55 sec
        Ceiling:        27130 ft (8270 m)
Production:		approximately 2385 Ki-51s


Additional information on this aircraft can be found at Wikipedia HERE.

For a very nice scale color drawing of this aircraft, see here.
Additional color schemes for this aircraft can be found here.
If you don't see the table of contents at the left of your screen, CLICK HERE to see the rest of this website!