Tachikawa Ki.9 Type 95-1 ("Spruce"/"Pat")


---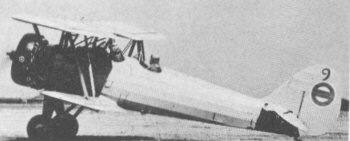 In 1934 Tachikawa was instructed to design an aircraft which, by fitting different engines, could serve as a primary trainer or as an intermediate trainer. The first prototypes were completed in late 1934, with the first flight being completed in January 1935. The Ha-13a powered intermediate trainer was accepted for production as the "Army Type 95-1 Medium Grade Trainer Model A" (with later improved versions being known as the Model B). The Ki-9s remained in service with the Japanese Army throughout the Sino-Japanese conflict and the Pacific War, and was code named "Spruce" by the Allies.
Tachikawa Ki.9 Type 95-1

Type:           Basic (Medium) Trainer

Service: 	Japanese Army Air Force (JAAF) 
Crew:           Pupil and instructor
Armament:       none
Reference: 	Francillon: 246 

Specifications:
        Length:         24' 8.25" (7.52 m)
        Height:         9' 10.15" (3 m)
        Wingspan:       33' 10.25" (10.32 m)
        Wing area:      263.715 sq. ft (24.5 sq. m)
        Empty Weight:   2238 lbs (1015 kg)
        Loaded Weight:  3142 lbs (1425 kg)
        Max Weight:     n/a

Propulsion:
        No. of Engines: 1
        Powerplant:     Hitachi Ha-13a 9-cylinder radial
        Horsepower:     350 hp

Performance:
        Endurance:      3-5 hours
        Cruise Speed:   93 mph (150 km/hr)
        Max Speed:      149 mph (240 km/hr)
        Climb to/in:    3280 ft (1000 m) in 4 min 55 sec
        Ceiling:        n/a
Production:		2618 Ki-9s built
Additional information on this aircraft can be found at Wikipedia HERE.

For a very nice scale color drawing of this aircraft, see here.
Additional color schemes for this aircraft can be found here.
If you don't see the table of contents at the left of your screen, CLICK HERE to see the rest of this website!