Kawasaki Ki.56 Type 1 ("Thalia")

---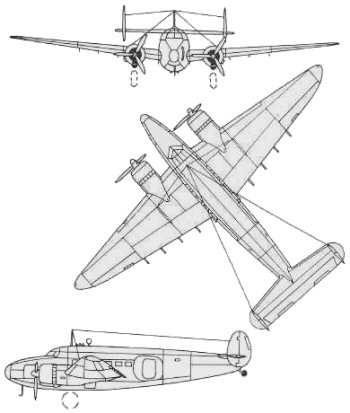 The Kawasaki Ki-56, known as "Thalia" to the Allies, saw service in all operational theaters as an all-around transport plane. The plane was derived from the Lockheed 14, which Kawasaki began building under license in 1939. The Ki-56 had a longer fuselage than the Lockheed, an altered wing-support system, and a lighter-weight structure. The first two prototypes appeared in November, 1940. During tests the Ki-56 proved generally superior to the Lockheed 14. Production of this plane continued until September, 1943 and a total of 121 aircraft came off the assembly lines. The Ki-56 could carry 5,280 pounds of cargo in addition to its four man crew.
Kawasaki Ki.56 Type 1
Type:           Transport
Service: 	Japanese Army Air Force (JAAF)
Crew:           crew of 4, plus 5291 lbs of freight
Armament:       none
Reference: 	Francillon: 108

Specifications:
        Length:         48' 10.6" (14.9 m)
        Height:         11' 9.75" (3.6 m)
        Wingspan:       65' 6" (19.964 m)
        Wing area:      551.117 sq. ft (51.2 sq. m)
        Empty Weight:   10791 lbs (4895 kg)
        Loaded Weight:  17692 lbs (8025 kg)

Propulsion:
        No. of Engines: 2
        Powerplant:     Nakajima Ha-25 14-cylinder radial engine
        Horsepower:     970 hp each 

Performance:
        Range:          n/a 
        Cruise Speed:   n/a 
        Max Speed:      248.5 mph (400 km/h) at 11480 ft (3500 m)
        Climb to/in:    9845 ft (3000 m) in 12 min 38 sec
        Ceiling:        26,250 ft (8000 m) 
Production:		121 Ki-56s total


Additional information on this aircraft can be found at Wikipedia HERE.

For a very nice scale color drawing of this aircraft, see here.
If you don't see the table of contents at the left of your screen, CLICK HERE to see the rest of this website!