Nakajima Ki.34 Type 97 ("Thora")
Nakajima L1N1 ("Thora")


---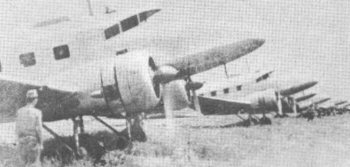 Standard paratroop and passenger transport used by the Army and Navy, and by the civil airlines as the AT-2, the Type 97 was well-known in the West. The original list of Allied codenames early in the war listed the type as "Thora". Nakajima had manufactured the aircraft as a scaled-down version of the DC-2. Some Ki-34s were handed over to the Japanese Navy and were designated L1N1.
Nakajima Ki.34 Type 97

Type:           Transport
Service: 	Japanese Army Air Force (JAAF)
Crew:           crew of 3, plus 8 passengers
Armament:       none
Reference: 	Francillon: 204

Specifications:
        Length:         50' 2.4" (15.3 m)
        Height:         13' 7.4" (4.15 m)
        Wingspan:       65' 0.2" (19.916 m)
        Wing area:      529.582 sq. ft (49.2 sq. m)
        Empty Weight:   7716 lbs (3500 kg)
        Loaded Weight:  11574 lbs (5250 kg)

Propulsion:
        No. of Engines: 2
        Powerplant:     Nakajima Kotobuki 41 or Ha-1b 9-cylinder radial engine
        Horsepower:     580 hp each 

Performance:
        Range (max):    745 miles (1200 km) 
        Cruise Speed:   193 mph (310 km/h)
        Max Speed:      224 mph (360 km/h) at 11025 ft (3360 m)
        Climb to/in:    9840 ft (3000 m) in 6 min 38 sec
        Ceiling:        22,965 ft (7000 m) 
Production:		351 Ki-34s and L1N1s total
Additional information on this aircraft can be found at Wikipedia HERE.

For a very nice scale color drawing of this aircraft, see here.
If you don't see the table of contents at the left of your screen, CLICK HERE to see the rest of this website!