Kawasaki Ki.61 Hien ("Tony")


---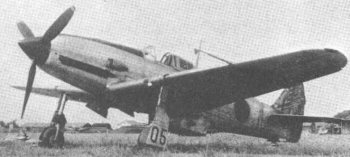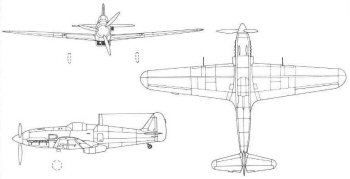 Click HERE to see a more detailed 3-view of the Tony
The Kawasaki Ki-61 was the only fighter with a liquid-cooled engine that the Japanese Army Air Force put into the field during World War II. It was this that made the Ki-61 Hien ("Swallow") so unlike the other Japanese planes that the Allies initially thought that it was German or Italian-made. While the engine was a license-built version of a German Daimler Benz engine, the rest of the aircraft was an all-Japanese design. The Ki-61, known as "Tony" in the Allied code, proved to be a match for Allied fighters, due chiefly to its particularly heavy armament, good protective armor, and high speed in dives. The Ki-61 was one of the few interceptors that could reach the same altitude as the the American B-29 Superfortresses. Because it was so successful a total of 3078 aircraft were built between August 1942 and August 1945. However, problems with production and with its engine kept it from being even more widely used during the war. The plane's engine problems included being difficult to tune and being subject to constant breakdowns. A solution to the engine problem was to substitute a more reliable radial engine for the liquid-cooled one. This caused a slight redesign of the fuselage, with the resulting aircraft type being designated the Ki-100, which turned out to be an even more outstanding fighter.
Kawasaki Ki.61-Ib
Type:           Fighter
Service: 	Japanese Army Air Force (JAAF)
Crew:           Pilot
Armament:       two 12.7mm Type 1 (Ho-103) machine guns in nose
		two 12.7mm Type 1 (Ho-103) machine guns in wings
		(later models included 20mm and 30mm cannons)
Reference: 	Francillon: 119, Mondey: 144

Specifications:
        Length:         28' 8.5" (8.75 m)
        Height:         12' 1.75" (3.7 m)
        Wingspan:       39' 4.5" (12 m)
        Wing area:      215.278 sq. ft (20 sq. m)
        Empty Weight:   4872 lbs (2210 kg)
        Loaded Weight:  6504 lbs (2950 kg)
        Max Weight:     7165 lbs (3250 kg)

Propulsion:
        No. of Engines: 1
        Powerplant:     Kawasaki Ha-40 12-cyclinder liquid-cooled engine
        Horsepower:     1175 hp

Performance:
        Range (normal): 373 miles (600 km)
        Range (max): 	684 miles (1100 km)
        Cruise Speed:   249 mph (400 km/h) at 13,125 ft 
        Max Speed:      368 mph (592 km/h) at 15,945 ft
        Climb to/in:    16,405 ft (5000 m) in 5 min 31 sec
        Ceiling:        37,730 ft (11,600 m)
Production:		approximately 3078 Ki-61s total

Additional information on this aircraft can be found at Wikipedia HERE.

For several very nice scale color drawings of this aircraft, see here (15 versions available on left).
Additional color schemes for this aircraft can be found here.
If you don't see the table of contents at the left of your screen, CLICK HERE to see the rest of this website!