Aichi D3A Type 99 ("Val")


---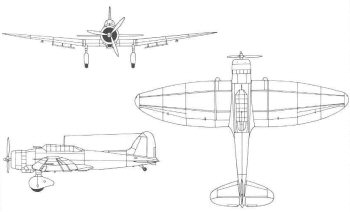 Click HERE to see a more detailed 3-view of the Val
The Aichi D3A was the first Japanese plane to bomb American targets in World War II and the plane that sank more Allied shipping than any other. The D3A, known by the Allied codename of "Val", saw outstanding service during the first year of the war and proved to be one of the best dive bombers of its time. It began production in 1939 and was in production until the end of the war, with 1495 examples being built. The Val was easy to recognize with its elliptical wing and fixed landing gear (a feature no longer used on most aircraft of its time). After the initial successes in the first year of the war, the D3A's inferiority to Allied fighters resulted in heavy losses. It was replaced in front-line service by the Aichi D4Y Suisei "Judy", though the Val remained in use until the war's end. Most of the Vals that were used in kamikaze attacks in the last months of the war were destroyed in the air.

Aichi D3A1 Model 11
Type:           Carrier Bomber
Service: 	Japanese Navy Air Force (JNAF)
Crew:           2 (Pilot, gunner)
Armament:       two 7.7mm Type 97 machine guns in nose
		one flexible 7.7mm Type 97 machine gun in rear position
		one 551 lb (250 kg) bomb under fuselage, plus 
                two 132 lb (60 kg) bombs under the wings
Reference: 	Francillon: 276, Mondey: 

Specifications:
        Length:         33' 5.5" (10.195 m)
        Height:         12' 7.5" (3.847 m)
        Wingspan:       47' 2" (14.365 m)
        Wing area:      375.659 sq. ft (34.9 sq. m)
        Empty Weight:   5309 lbs (2408 kg)
        Loaded Weight:  8047 lbs (3650 kg)

Propulsion:
        No. of Engines: 1
        Powerplant:     Mitsubishi Kinsei 44 14-cylinder radial
        Horsepower:     1080 hp 

Performance:
        Range:          915 st miles (795 naut miles)
        Cruise Speed:   184 mph at 9845 ft (160 kt at 3000 m)
        Max Speed:      240 mph at 9845 ft (209 kt at 3000 m)
        Climb to/in:    9845 ft (3000 m) in 6 min 27 sec
        Ceiling:        30050 ft (9300 m)
Production:		1495 D3As total



Additional information on this aircraft can be found at Wikipedia HERE.

For several very nice scale color drawings of this aircraft, see here (4 versions available on left).
Additional color schemes for this aircraft can be found here.
If you don't see the table of contents at the left of your screen, CLICK HERE to see the rest of this website!