Fuselage hits - page #1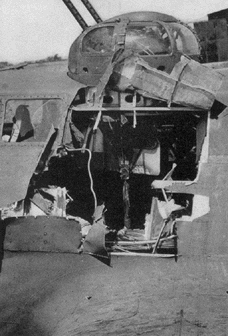 A rocket fired by an enemy fighter inflicted this damage on The Sack, a B-17 of the 379th Group. A 14-inch fragment of the rocket tore the pants off of the turret gunner without hurting him.
SOURCE: Target: Germany by Life Magazine and The Mighty Eighth by Roger A. Freeman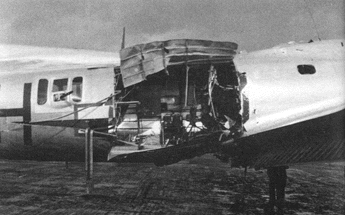 What happened here? Duel For the Sky (by Herbert Molloy Mason, Jr.) states that an Me-262's heavy cannon tore open the side of this Fortress, but according to the Mighty Eighth War Diary (by Roger A. Freeman) the B-17 was hit by an 88mm shell , blasting a special radio operator and the ball turret gunner in his turret out of the aircraft.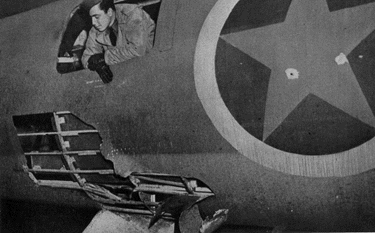 A German 20mm shell peeled the metal covering off this bomber like skin off an onion. Note the small caliber bullet holes in the fuselage star.
SOURCE: Target: Germany by Life Magazine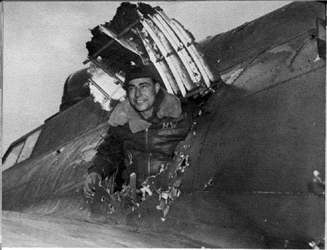 One of the crew of a B-17 which suffered battle damage during the raid on Berlin, on March 6th 1944.
SOURCE: B-17 Flying Fortress by William Hess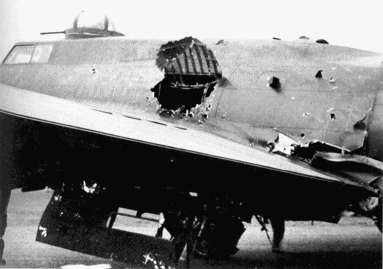 Another view of the B-17 in the previous photo, showing additional damage to the fuselage.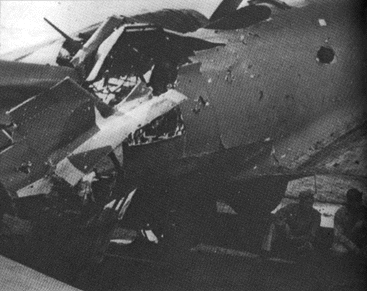 The B-17 flown by Lieutenant Kenneth R. Bragg, its fuselage and tail almost severed, made its way home.
SOURCE: B-17 Flying Fortress by William Hess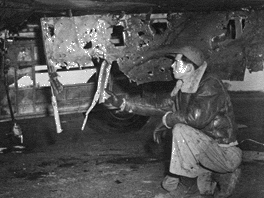 A ground crewman examines the shell shattered bomb bay doors of a Fortress after its return from the Berlin raid.
SOURCE: B-17 Flying Fortress by William Hess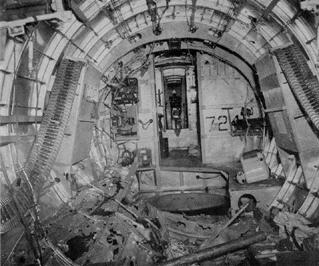 On October 15, 1944 "Little Miss Mischief" took a flak hit on the left side near the ball turret. The blast threw the right waist gunner to the floor, with shrapnel in his foot. See the next photo for another view of this hit.
SOURCE: B-17 In Action by Squadron/Signal Publications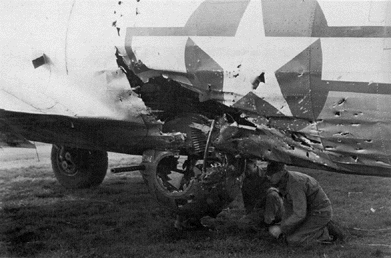 Another view of the flak hit to "Little Miss Mischief", this shows the mangled fuselage and ball turret. Incredibly, the ball turret gunner's only injuries were the loss of a little toe and frostbite from the high altitude.
SOURCE: B-17 In Action by Squadron/Signal Publications


German flak batteries always set their aim on the lead aircraft of a formation and often hit them. A shell struck this 91BG lead while bomb doors were open and radome extended. Despite the gaping wound the bomber was brought back for a safe landing at Rackheath, November 6, 1944.
Source: Mighty Eighth War Diary by Roger A. Freeman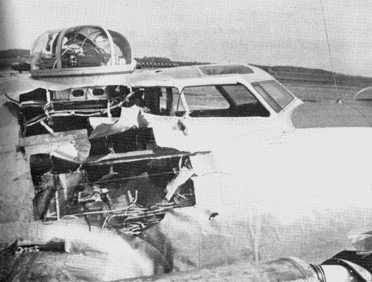 A ground launched rocket missile caused this damage to 388BG's "Panhandle" during an attack on a V-weapon site, June 15, 1944. The missile struck number 3 engine, ricocheted into the fuselage and exploded, leaving Sgt Biggs, the top turret gunner, with nasty burns. Despite extensive damage to various control lines Lt McFarlane brought the bomber down safely at Manston.
Source: Mighty Eighth War Diary by Roger A. Freeman
---