Nose hits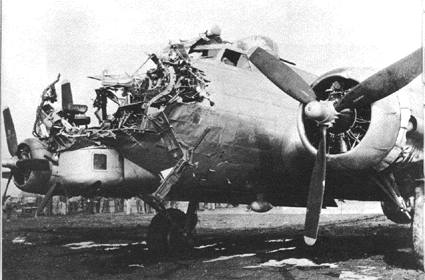 1st Lt. Lawrence DeLancey managed to get his B-17 back to England after a direct hit by flak killed two of his crew over Cologne, Germany.
Source: Air War Against Hitler's Germany by Stephen W. Sears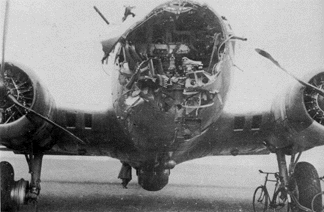 Flak just about took the nose off this 379th BG Fortress, but it made it back home with a fierce wind shrieking back through the fuselage.
SOURCE: B-17 Flying Fortress by Jeffrey Ethell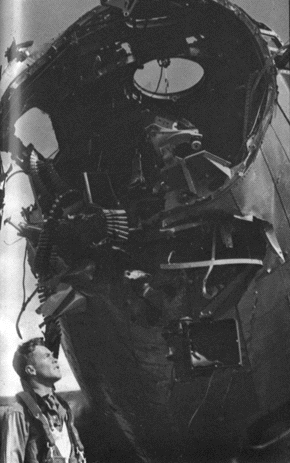 Two men in the nose killed instantly, power lines ruptured, plexiglass
blown away, nose and engines riddled - but she came home.
SOURCE: Black Thursday by Martin Caiden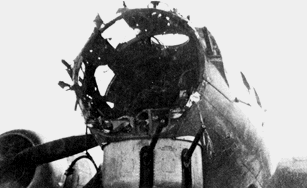 The togglier, Lt L.J. Clements, was killed by the 88mm shell that took the nose piece off 96BG's 43-39107 over Hengesty, March 23, 1945. The bomber was force-landed at Woensdrecht airfield.
Source: Mighty Eighth War Diary by Roger A. Freeman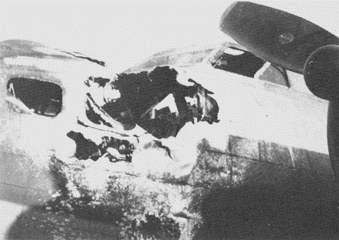 Enemy 20mm cannon hits ignited electrical equipment in the nose of "Belle of Maryland", including the pilot's instrument panel. Numerous fire extinguishers barely kept the fire under control until landing (with a burning engine as well). As soon as the B-17 came to a stop the nose erupted in flames, and while the crew escaped safely, the bomber was ruined beyond repair.
Source: Mighty Eighth War Diary by Roger A. Freeman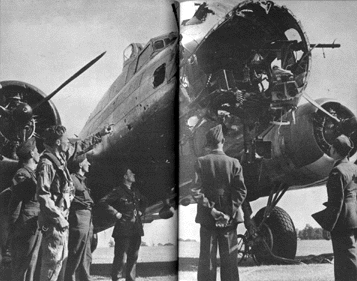 Fortress #890 of 379th Group came home after mission of June 28, 1944, with its entire nose blown away and after several men were killed.
SOURCE: Flying Forts by Martin Caiden


The hole made by a .50 caliber bullet in the co-pilot's window on B-17 "Charlene".
Source: B-17 Fortress At War by Roger A. Freeman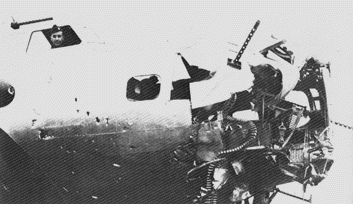 Major Alex Andrews (at co-pilot's window), an 8AF HQ special observer detailed to monitor combat morale, was flying in 379BG's "Lil Satan" on June 25, 1944 when an 88mm shell hit its nose. The pilots were able to fly the B-17 back to England and land at Hunsden. The bombardier was mortally wounded.
Source: Mighty Eighth War Diary by Roger A. Freeman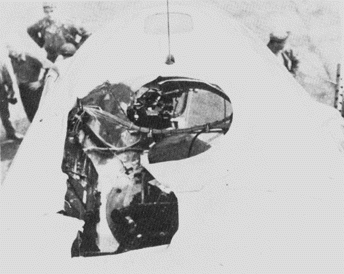 A 500 pound bomb smashed right through the nose of 305BG B-17 42-102555,KY:F, over the target on July 18, 1944. The navigator, Lt L.J. Simpson, was killed. (via M. Gibson)
Source: Mighty Eighth War Diary by Roger A. Freeman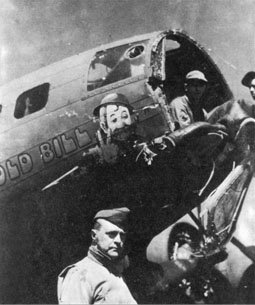 365th Bomb. Sqn. (of the 305th Group) B-17F "Old Bill" suffered serious damage in numerous head-on attacks by enemy fighters on May 15th, 1943. The navigator (Lt Douglas Venable) was killed, and only two of the eleven men on Old Bill (a photographer was on board) escaped injury. Here we see ground men working on the wrecked nose, with a flight jacket covering the then-secret Norden bomb sight. The man in the foreground is Bruce Bairnsfather, the artist who painted the "Old Bill" nose art seen above.
SOURCE: The Mighty Eighth by Roger A. Freeman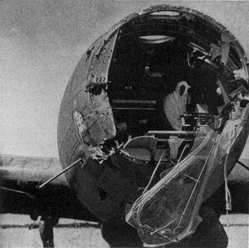 This is another view of "Old Bill".
SOURCE: Target: Germany by Life Magazine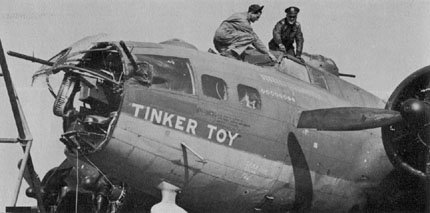 Tinkertoy, 'jinx ship' of the 381st BG, after the October 8, 1943 mission to Bremen, Germany. Men point to holes made by 20mm cannon shells which decapitated the pilot.
SOURCE: The Mighty Eighth by Roger A. Freeman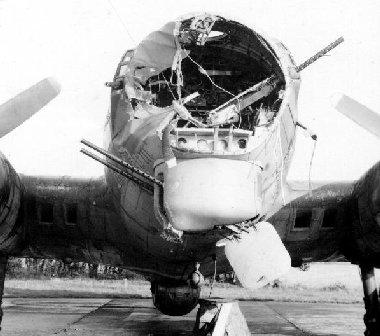 385th Bomb Group B-17 #42-31378 "Rum Dum" was forced to land in a field in occupied Germany, crew okay. It was later flown back to England and crash landed there, salvaged February 26, 1945.
SOURCE: contributed by Bill Varnedoe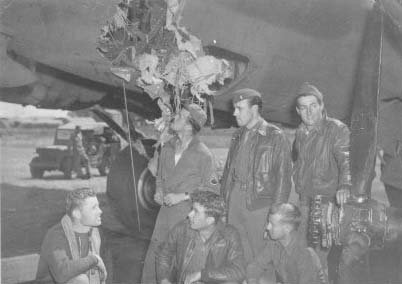 A B-17 named "Shortstride" (pilot: E. G. Shelton Jr.) fell 15000 feet in a dive after a cannon shell came through the plane and broke the bombs loose, which busted through the bomb bay doors. After landing back at their base a prop came off and slashed through the side of the aircraft.
SOURCE: E.G. Shelton's brother (Stacy Shelton) submitted this photo.
NEW -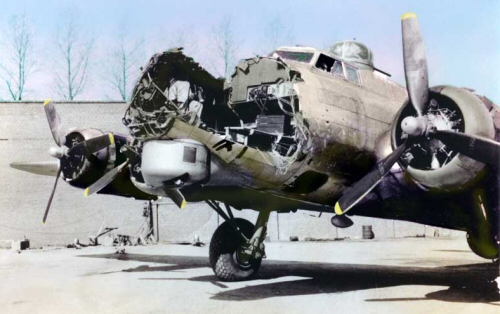 Captain Allyn Lewis landed his B-17 "Recall" in Belgium after its nose (and the nose art) was shot away over Germany. His crew all bailed out safely and made it back to Allied held territory. The two men in the nose were able to scuttle out the hatch (see the missing door in the photo).
SOURCE: Rocky Raymond, nephew of Capt. Allyn Lewis submitted this photo.
---