QUEEN HATSHEPSUT'S TEMPLE
AT DEIR EL-BAHRI
Set against the backdrop of the cliffs of Thebes, the mortuary temple of Queen Hapshepsut at Deir El-Bahri is an impressive site. It is still under reconstruction, but it makes for great photos regardless. There is another temple complex (belonging to Montuhotep I) alongside of it, but that temple appears as mostly rubble, and has not been reconstructed. Queen Hapshepsut is believed to have been one of the few female rulers of Egypt, and actually appears in the guise of the male pharoah in some ancient artwork. It was at this temple site that a busload of German tourists were killed by terrorists in the mid-nineties, which severely damaged Egypt's tourist trade for a number of years. Its effects were still being felt in 1999 when I was there, as the number of tourists still had not returned to normal.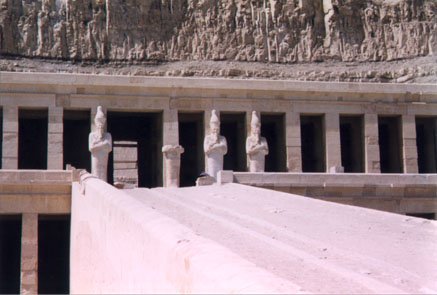 This is a view of the upper ramp and back level of the temple complex. Note the standing Osiris statues against the columns, only a few of which are complete.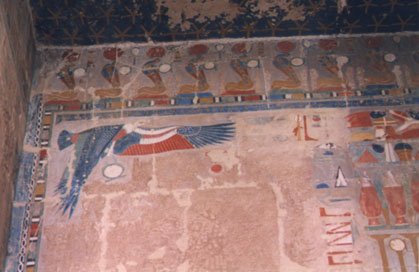 Some of the inner walls of Queen Hapshepsuts temple still retain beautifully colored wall murals, like this one with sacred sun cobras and a flying vulture. Note the ceiling, which was a medium blue covered with rows of yellow five-pointed stars. This was a motif that we saw on the ceilings of a number of sacred sites.