Day 18-19: two days of travelling to get home
We asked around the hotel to find out who the girls from the night before might have been, but nobody seemed to know. We could have sent them a gift from the U.S. if we could have gotten their name and address. As it was, all we had left to do after breakfast was meet our driver, who took us to the airport for our flight back to Chile.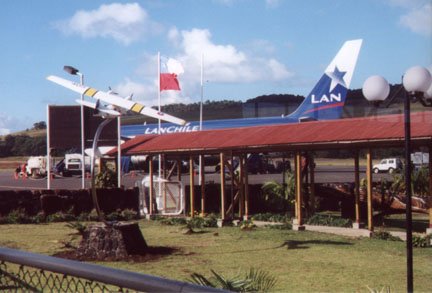 The red covered walkway into the terminal at the Rapa Nui airport. Our LanChile airliner prepares to be
boarded in the background. Note the large white PBY Catalina flying boat model on a pylon to the left.
We were each given a shell necklace from our tour company as a parting gift, and then we were left at the small airport to check-in and await our flight. I took a couple of last photos of the airliner and a WWII flying boat model on a pylon outside, then put the camera away and waited to board. Once on the airliner, I disregarded the flight attendant's instructions and used my "electronic device" (ie. - camcorder) during takeoff. Sitting in my window seat, I filmed the whole takeoff run through the window, continuing to film the island from the air as it receeded into the distance. All in all, I ended up with about 16 hours of camcorder footage from the trip.
We flew to Santiago, where we deplaned and went through customs again (the flight had originated in Tahiti). Once again we did not have to pay the $60 Chilean entrance fee. Neither did we have to pay the exit tax, which was $18. We had dinner in what appeared to be an airport restaurant, but was actually just a sandwich and ice cream place. We hung around long enough to have ice cream for dessert, then went to our gate to catch our 10:30pm American Airlines flight to Dallas, Texas.
We tried to sleep as much as we could on the flight to Dallas, which arrived in the early morning hours. After a brief layover we boarded an American flight to San Diego, arriving about 11am. All but one of our bags were present in the baggage claim area, but luckily the missing bag showed up a half hour later on the next flight out of Dallas.
Once at home, I was relieved to find that my sickly twenty-year-old cat had survived my absence, and had not died while I was gone. Then it was a matter of unpacking, and dealing with the weeks of mail and email that had piled up. With that out of the way, I could begin working on this website. And now, this trip travelogue is at an end.
I had a great time on this trip, and saw some fantastic sights. I saw places that I have read about for years, and experienced cultures that I had only seen in photographs. The people that we met were kind and friendly, and we felt very welcome wherever we went. The memories may fade a little with time, but the photographs and video footage will always be available to help bring them back. If you have the desire to see any of the places listed on this website, my advice to you is "GO!". Don't put it off and wait for a time in the future that may never come. If you save your money, you too can take a trip like this. So what are you waiting for?
END
To see some of my other websites (including trips to other ancient ruins) click HERE.