Day 1: And so it begins.....
We flew out of San Diego on American Airlines, stopping to change planes in Dallas. We then flew on to Lima, the capital of Peru. We arrived late in the evening, and after going through the hassle of Customs (we had to open our carefully packed suitcases for the customs inspectors to rummage through), we exited the terminal to find the representative from our tour company holding up a sign with our names on it.
By the way, we two were the only people on our "tour", which was basically a customized itinerary that I had designed with the help of Lost World Adventures. They were the only company that I found that went to all of the places that we wanted to go in South America, even though they didn't have a tour that exactly matched our needs. So I designed a customized tour, and they massaged it into a workable itinerary that we could accomplish within our allotted two and half weeks of vacation time. Lost World arranged a whole bunch of mini-tours that were strung together to seem like one long tour. Each mini-tour was handled by a small local tour company, who would pick us up from the airport or wherever, take us to and guide us through the scenic destination, and then deliver us to the next stage of the journey. There was always just the two of us, a driver, and a guide, so it was a very personalized one-on-one type of service. I would recommend their services to anyone. (Ask for Shannon or Andrew.)
We got on board the company mini-van with our luggage, and took the half hour ride through the streets of Lima to get to our hotel, the Hotel Antigua Miraflores. This was described as "a turn of the century mansion offering the comforts of a fine hotel and the charm of a bed & breakfast". Like virtually all of the hotels that we had on this trip, it was a high-end quality establishment. Sue and I had a tradition of staying in the better hotels on all of our trips, because sometimes the best foreign hotel is only as good as a standard hotel in the United States. You might as well stay in a comfortable hotel, because there will be more than enough unusual and/or annoying things to deal with, and there's no need to include your accomodations on the list.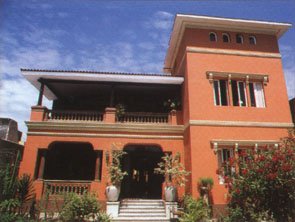 Picture from the brochure for the Hotel Antigua Miraflores.
Upon arriving at our room we found a couple of half liter plastic bottles of water laid out in the bathroom (alongside the usual free toiletry items). While the local water is safe to drink for the locals, for North Americans it can bring on the dreaded "turista" (traveller's sickness, ie. - diarrhea). Therefore visitors are encouraged to drink only bottled water or other safe drinks. However, you also have to alter certain ingrained habits, like rinsing your toothbrush out after you brush your teeth. You quickly learn how clean your toothbrush with the bottled water, and you make sure that you don't accidently get water in your mouth when taking a shower or washing your hair or face (its easy to forget that rule if you're tired and you let your guard down). We usually bought extra bottles of water at most meals, as we took them with us during our day trips so that we could stay hydrated (important at higher altitudes).
I was glad to find that our room had both types of electrical outlets, 220 (standard in Peru), and 110 (standard for U.S. electrical devices). I only had one electrical device with me (the battery recharger for my camcorder), but it was important that the recharger continue to function for the whole trip, as I did not have enough batteries to handle the 16 hours of filming that I would be doing during the next 18 days. I had an new adaptor that converted 220 to 110, but I was not anxious to try it, as I'm always a little leery of changing voltages and possibly burning out my hard-to-replace recharger. In fact, probably due to the fact that we picked the best hotels in all of our destinations, all of our hotels (except the one on Easter Island) had both 220 and 110. Since Easter Island was at the end of the trip, I was able to arrive with all of my batteries charged, and they lasted for all of the filming that I did there.
Water bottles and outlets aside, all we wanted to do at that point (eleven or twelve o'clock at time of night), was hit the sack. The beds were comfortable enough, and we were soon asleep, getting our needed rest for the first tour, which started the next morning.