Day 9: the bus ride from hell, destination Puno
Well, okay, maybe "bus ride from hell" is a little strong. It definitely wasn't the best day of the trip, though.
We had breakfast in the fancy restaurant of the Hotel Monestario again, trying to be ready for our 7:30am pick up. Like the morning we departed for Machu Picchu, we had our prepaid breakfast along with a handful of other sleepy tourists, at the nice buffet meal that was available. And, like every other breakfast buffet during the trip, one of the items that I usually went for was the scrambled eggs, which were usually served from a big serving tray. These eggs were always runnier than I would have liked (I liked my scrambled eggs well done, so that they are dry and slightly browned, not covered with egg mucous as was typical.) Luckily this buffet had an egg chef on duty, who custom made egg dishes for the guests. Despite his lack of English and my small amount of Spanish I managed to get my eggs done in a more palatable fashion.
We met the guide on time, but were delayed because the porter was trying to bring multiple rooms worth of bags down at one time. Once we got that sorted out and had checked out, we were taken to the other side of town where our "luxury motor coach" was waiting to begin the trip to Puno (all the way across Peru to the southeastern corner, a journey of at least eight hours).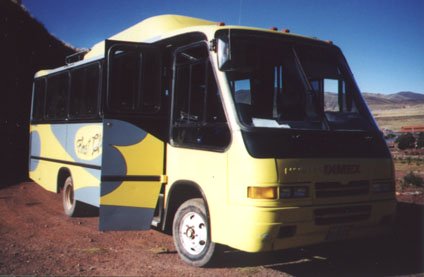 Our "luxury motor coach" to Puno, which said "First Class" right on the side, in case you had any doubts.
I'm not sure where the term "luxury" came in, though the seats were better than those of a standard bus. There was no bathroom on board, but even with a full day of driving it was okay, since we stopped at numerous places during the day. The beginning of the trip did not bode well, however. After fighting our way through the traffic and detours in Cusco (having to go off of the main roads through residential neighborhoods more than once), we finally got onto the road to Puno. It seemed like the majority of this road was under perpetual construction, and we gritted our teeth as we drove over interminable lengths of unpaved roads. Our driver managed to miss the majority of potholes, but not all of them. I thought that it was going to be torture if we had to endure an entire day of this kind of driving. It didn't make matters any easier that the guide who was assigned to the bus had a very annoying voice, making us glad for those times when she wasn't talking.
Luckily we eventually reached the stretch of road that was actually paved, and the journey became more bearable. We made a number of stops, though I only remember four of them. We stopped at the town of Andahuayillas, which had a church that was supposed to be of interest (we weren't interested, though they did have restrooms nearby). Later we stopped at the Inca ruins of Pucara (not to be confused with Puca Pukara near Cusco), and stopped at the nearby town's Pucara museum to use their restrooms as well. I remember that the courtyard of the Pucara museum had a number of preserved Inca statues, as well as a noisy goose, some rabbits, and a very motley-looking white cat. The cat seemed friendly, and I wanted to pet it, but it looked so bad that I was afraid I would catch some wierd disease from it. So I took a Kleenex out of my pocket and petted it using that. It seemed grateful for the attention, but soon it was time to go, and I tossed the Kleenex in the trash can and got back on the bus.
We had lunch at some other little town where a Quechua family cooked hot lunches for groups like us. It wasn't a restaurant, but it had a homey feel, and the food was hot and plentiful. We sat outside at picnic tables to eat, and conversed with a mother and son from Colorado who were on the bus with us. Occasionally we were approached by a local vendor trying to sell us an alpaca hair something-or-other, but it was generally a peaceful and nice rest stop.
The only stop of real interest to me was the one at Raqchi, with its temple to the God Viracocha. It wasn't real impressive to me at the time, since there was very little left of it. Since I have been home, however, I've seen reconstructions of the way it used to look, and now I can understand its layout. Nearby were about 200 house-sized round structures that used to be used as Inca storehouses. There seemed to be more to the site than met the eye (an incredibly long wall surrounded the area for as far as the eye could see), but very little of it was restored.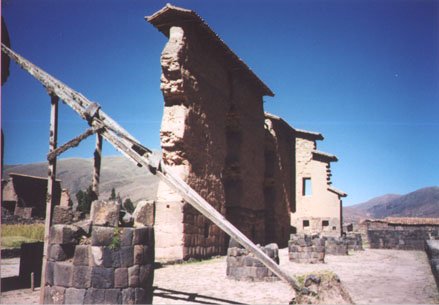 The center support wall of the temple of Viracocha at Raqchi. On both sides of this wall was a row of eleven large round columns that helped hold up what is believed to been the largest roof in the Inca world. This three story tall building was one of the holiest Inca sites, and as usual, it was virtually destroyed by the Spanish.
The countryside eventually gave way to rolling grass hills, with snow-capped Bolivian mountains on the horizon. We finally arrived at Puno, where we exited the bus at one of the main hotels, and were met by a driver and guide who would take us to our hotel (the Hotel Libertador Esteves) which was outside of town right on a scenic edge of Lake Titicaca. The big white modern hotel looked like an ocean liner on land, and we checked in, finding our room on the second floor, which had a nice view of a different side of the lake.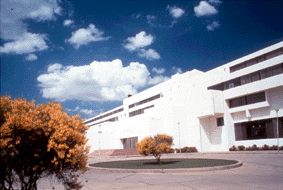 The Hotel Libertador Esteves, outside of Puno on Lake Titicaca
It seemed to be a rather expensive hotel, and the dining room was very classy. The service was occasionally spotty, but otherwise it was a nice meal and the end of yet another long day.