09 APRIL (Wednesday)
At 5am we met up with our newly-made friends from the bungalow next door, and set out with their guide to Temple IV. After making the climb and taking in the sunrise we rejoined the guide for a partial tour of Tikal. He took us to see buildings that we had not seen yet, and pointed out interesting sights and facts.
In some of the Tikal temples and buildings you can find bats clinging to the ceiling above you. Though vampire bats can be found in Central America, these were just the common bats that feed on insects (keeping mosquito levels down). I thought I heard once that each bat eats his body weight in bugs every night; I don't know if that's true, but it sounds plausible. The bats were about the size of a mouse, and so were no threat and nothing to be afraid of. In fact, every time we found them we thought that they were pretty cool.... I like one video shot I got of a little bat who gnashed his little fanged teeth at me when I shined my flashlight on him.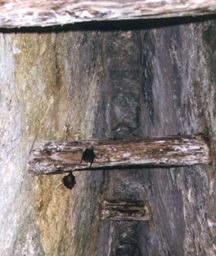 Looking straight up into the vaulted ceilings of one of the temples, you can see a pair of bats hanging upside down from one of the wooden crossbeams. (It's times like this when I wish we had a telephoto lens.)
We eventually split off from our friends and explored most of the rest of Tikal. We had put in two half days here, but I think two full days would be a recommended minimum. You could easily spend a week or two here at this site alone. We rushed through most of our explorations, and didn't get to some of the buildings, but felt I had seen most of the highlights, and was very pleased with the results. We had to check out of our room by 11 or 12am, so Sue hiked back to the hotel while I stayed behind to climb the Lost World Pyramid. This pyramid lacks a temple at its top, and its flat upper level provides a good vantage point of the other pyramid temples.
I hurried back to the inn in time to help load the jeep so that we could head for the airport. I had been setting a grueling pace for the last two days, despite my continuing illness. I was definitely running on reserves, though, and Sue said I didn't look good. She worried that I might collapse or get really sick, and was frustrated that I wouldn't take the antibiotic medicine. She also had just realized that she had got the "turista" as well. By the time we got to the airport, turned in the car, and checked in at the airline desk she was feeling pretty bad. We both tried to keep a "stiff upper lip" and not let the other person know how we really felt.
It was at the Flores Airport that we got a rude shock. Our airline reservations to Cancun had been canceled. We were told (through a fellow tourist, as the clerks spoke absolutely no English and couldn't understand our partial command of Spanish) that we had failed to re-confirm our flights 72 hours before departure, and so we had been dropped from the list. However, no one had told us about such a requirement, and it was never mentioned in the guide books or by our travel agent. We could not get a seat on our original flight, and it was very nerve-wracking to try to find an airline that had a flight to Cancun at anytime on that day. We eventually found one, but it too was full, though they were willing to put us on a waiting list. Luckily, two reservations were canceled and we were able to take the opened slots. We were greatly relieved, as I was determined to keep to our tight timetable, which left little margin for problems like this. Once we actually got our boarding passes we could relax, and we passed the time talking to a young couple from California that was on a six-month bicycle trip all the way from the U.S. to the Yucatan and back.
We eventually got our flight, and I was lucky enough to be on the side of the plane from which I could look down on Tikal as we flew over it. It looks like something out of a storybook from the air... truly "lost history" kind of stuff. After a brief stop at Chetumal (where, for some reason, we had to de-plane, go through customs, and re-plane again), we eventually arrived at Cancun at 7:40pm. Sue was near collapsing herself by this time, and we tried to maintain our patience while we got the luggage and the rent-a-car. We set out for the hotel, and even in the dark we were impressed by the luxurious resort hotels that we passed.
We found the Cancun Palace, which was a very nice large resort hotel. We hadn't had dinner yet, and not wanting to take time to find a restaurant and wait for a meal to be prepared, we stopped at a McDonald's for the evening's sustenance. Back at the hotel we dragged our weary butts through check-in and onto the elevator, where I felt a little out of place amongst the laughing American tourist families in their swimsuits, since we looked (and felt) more like bedraggled jungle explorers. Once in the room we were surprised to find that there was a large jacuzzi right in our suite, along with other deluxe accommodations. After unpacking and going through the usual routine of plugging in the recharger for the camcorder batteries, we put the jacuzzi to good use on our sore bodies.
By this time some of my leg muscles were feeling very sore from all of the step climbing, and I was worried that I wouldn't be able to do all of the climbing that I wanted (especially with the majority of the sites ahead of us). However, while they did continue to complain occasionally, they didn't get worse, and I went up every temple and pyramid that I was allowed for the remainder of the trip.
Sue finally convinced me to take my medicine (she had already started taking hers). She was afraid that I was going to push myself until I collapsed and had to be airlifted home. After this day we would be on the path to recovery, and illness was not much of a factor from this point on. Sue also insisted that we would sleep in late in order to catch up on our rest. At this point our schedule was flexible enough to allow the loss of a half day, so it would not impact us too much.
We also called back to the United States and had our travel agent re-confirm all of our future flights, so that we would not run into another Flores airport situation again.