14 APRIL (Monday)
In the morning we went back to Uxmal to finish exploring those parts that we had not seen the day before. We were done by midday (it took a total of one day to see the site), and we checked out of the villa, and headed off in the car back towards our awaiting flight at Merida. We could have taken an hour to visit the nearby Mayan ruins of Dzibilchaltun, but after our bad experience at the Flores airport we didn't want to take any chances. So we went straight to the Merida airport, where we turned in the car. We had lunch in an airport restaurant, then waited for our 4:10pm flight. This flight took us all the way back to Mexico City, where we took another flight down to Villahermosa. Quite a waste of time as far as I was concerned, but you have to learn to live with the airline schedules in that part of the world.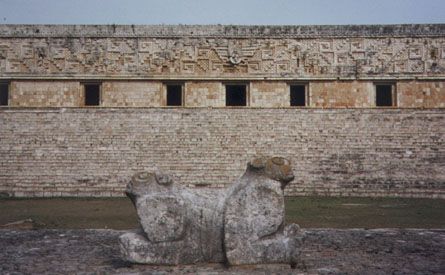 The double-headed jaguar throne in front of the Palace at Uxmal.
We finally arrived at Villahermosa around 8pm. We took at taxi to hotel "Maya Tabasco", checked in, and had a late dinner.