DON'T PUT OFF YOUR TRIP TOO LONG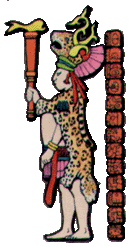 The sooner you can take your trip the better. More and more tourists are visiting the sites, now that it is becoming easier to travel and get hotels down there. While it is great (from a visitor's point of view) that things are being improved and being made more convenient, you have the disadvantage of having to deal with more crowded conditions at some of the sites. I think my trip occurred at the right time, when travel was convenient enough to do everything I wanted, but not so convenient that I had to deal with masses of unenlightened tourists.
Another disadvantage of the increased flow of people is that some of the famous buildings are now off limits to climb on. In my pre-trip research I saw plenty of photos of people climbing on the Temple I pyramid at Tikal, or the Temple of the Warriors (with it's famous chacmool). However, that is now a thing of the past. Both of these buildings are now off limits to climb on (the wear and tear from the tourists was damaging the structure). I have since heard rumors of even more structures being made off limits, so don't put off your trip for too many years.