MISCELLANEOUS TIPS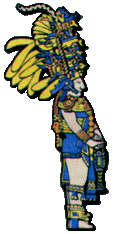 1) Protect yourself from the sun. Bring a hat, high-SPF sunscreen, and sunglasses.
2) Bring comfortable walking shoes or hiking boots. You're going to be doing a LOT of walking (and some climbing). Hiking socks (several pair) are also recommended.
3) If you're going to be driving a rent-a-car, bring maps of the region with you from home (don't assume you can get them there). Maps can be obtained by writing that countries consulate/embassy, from map stores, and sometimes even the U.S. Auto Club. These maps will help you estimate travel times, plan alternate routes, and sometimes may be more detailed or extensive than the map provided by the rent-a-car agency.
4) Verify site or museum hours ahead of time. One museum in Guatemala City that we had planned on going to was closed on the one day of the week that we were there (despite what our out-of-date guidebook said).
5) Call to re-confirm each of your airline flights 72 hours beforehand. One flight we had paid tickets for had canceled our reservations and sold our seats to someone else, because we had failed to re-confirm 72 hours earlier (no one had told us this was necessary). We were lucky to get standby seats on another airline's flight later that day, but it could have seriously disrupted our planned schedule.
6) If you're at Chichén Itzá or Uxmal in the evening, pay to see the sound and lightshow put on at the site. It's a little touristy, but it's interesting to see the ruins after hours at night.
7) If you're staying at one of the hotels in the Tikal Park, arrange with a local guide to see the sunrise from the top of Temple IV. Normally the ruins are closed before 8am and after 4 or 5 pm, but for $20-$30 per person you can get permission to be there during the off-hours. This is the best time to be there, as you have fewer tourists to deal with, and you are more likely to run into the local wildlife being active. It costs extra, but it's well worth it to get up in the pre-dawn hours, hike quietly through the dark rain forest, and climb to the top of the pyramid to Temple IV. Sitting there on top of an ancient holy pyramid, watching as the first rays of sunshine come out across the rain forest canopy below and in front of you, and listening to the birds and animals of the forest awaken is an awesome experience.
8) If you take electric items on your trip (like a blow dryer, or in our case, a recharger for the camcorder batteries), make sure you take along a converter (the small adapter that fits into the wall socket and converts the local electricity to the proper type for your appliances). Any travel store can sell you the needed converter that is good for Central America. It is usually only an inch or two in size, and so won't take up much room.
9) In Mexico, some of the archeological sites are free on Sunday. Try to plan your trip to take advantage of this. We went to Uxmal on a Saturday, explored most of the site, and returned on Sunday for free. We saved a half day on Sunday to visit the smaller nearby sites of Kaba, Sayil, and Labná, each time getting in free. Between the two of us, that saved us the price of eight admissions!
10) Take a small compass. It can come in handy when orienting yourself to the map in your guide book, or when navigating through the rain forest in a site with a lot of trees and fair distances between the buildings (like Cobá, Sayil, and especially Tikal).
11) Don't assume that the restrooms will have the usual "necessities" that you are used to in the civilized world. Take one (or more) rolls of toilet paper. Remove the center cardboard, flatten the roll, and put it in a ziplock baggie. That way it saves space and will be waterproof. Pull the sheets out of the inside of the roll as you need them. A travel-pack of disposable pre-moistened towelettes is also recommended, as some places have no running water to wash your hands.
12) If you're crossing borders, don't forget to change some of your currency. While some of the major hotels or tourist spots may accept traveller's checks, you'll want enough of the native currency on hand to take care of site admissions, meals, purchases, tips, fees, etc. Money can be changed at all airports, and if you're driving across borders, there is always someone who has taken it upon himself to be the local "money changer". For example, when we drove from Guatemala across into Honduras at the El Florido crossing, there was a man and his friend standing only a few yards away from the actual border gate with a wad of quetzals (Guatemalan currency) and Honduran dollars in his hand. If he hadn't spoken to us we wouldn't have known his purpose, for he was no different in appearance than all of the other local men. For a small fee we were able to change enough currency to last us the couple of days we planned on staying in Copán. He was also there a few days later, and we changed back our remaining Honduran currency into quetzals prior to continuing on to Tikal.
13) I recommend that you go to the Central America section of the Thorn Tree message board at http://www.lonelyplanet.com and search the messages for subjects of interest. While you're at it, ask some detailed questions of your own.