THE SHIPS OF TORA! TORA! TORA!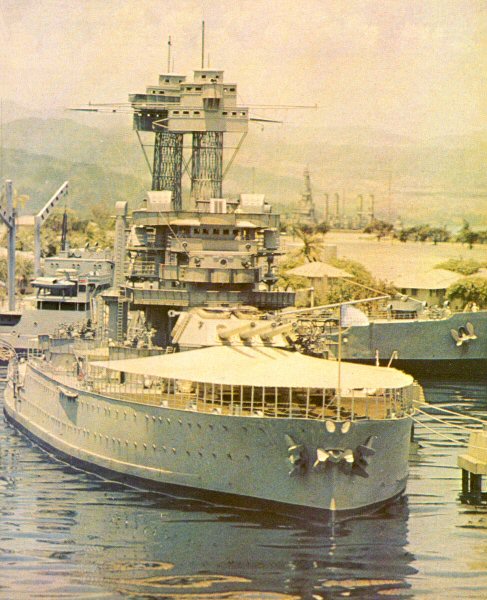 Model of an American battleship shows the attention to detail that was a hallmark of Tora's ship models.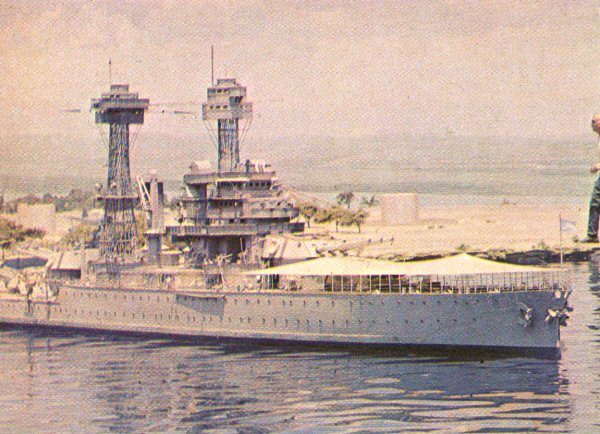 A scale American battleship sits at a scale Battleship Row. (Note the model oil tanks in the background,
and the figure at right who gives you a sense of size of the model.)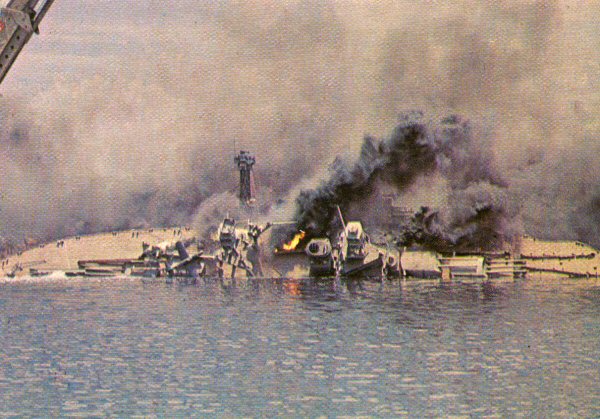 During the filming of the attack on Battleship Row, the model of the USS Oklahoma burns and capsizes.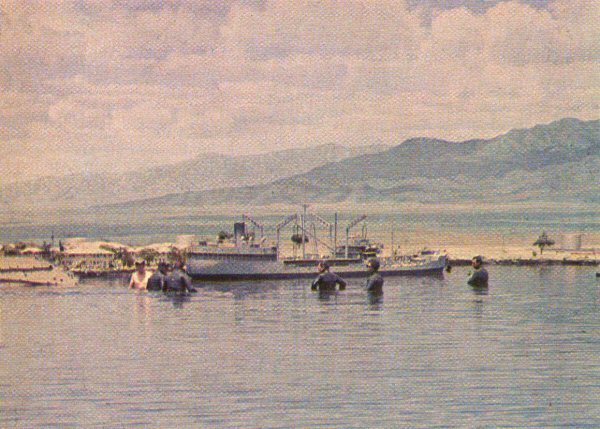 Divers in wetsuits tend one of the many ship models used in the production.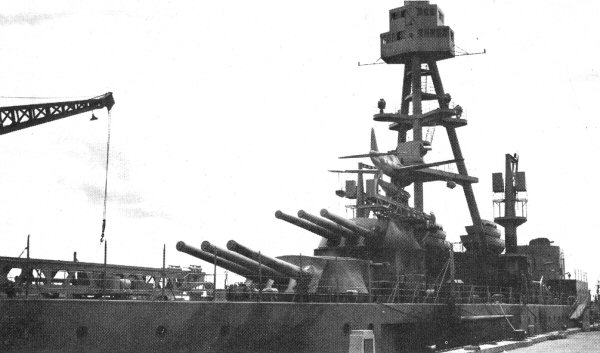 Here you can see the full-size replica of the stern end of the USS Arizona. This is not a model, but was
an actual set where men could be filmed onboard a "ship". At the time, this set cost $1,500,000 to build.
(courtesy of Air Classics magazine)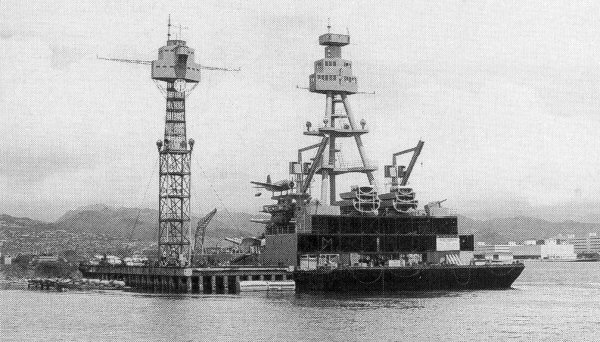 In this view of the full-size USS Arizona, you can see the seemingly cut-away support structure for the false ship.
Note the replica of the mast of the USS Tennessee alongside. This set was obviously only meant to seen
from the other side.
(from the Bob O'Hara collection, courtesy of FlyPast magazine)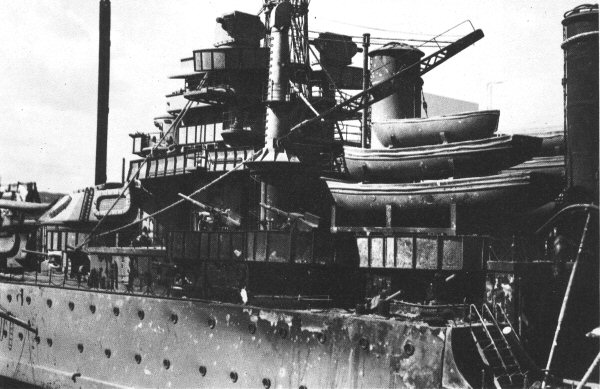 This is a closeup of the 3/4" scale model of the Nevada battleship. You can see evidence of the intensity
of the fire damage that occurred during filming.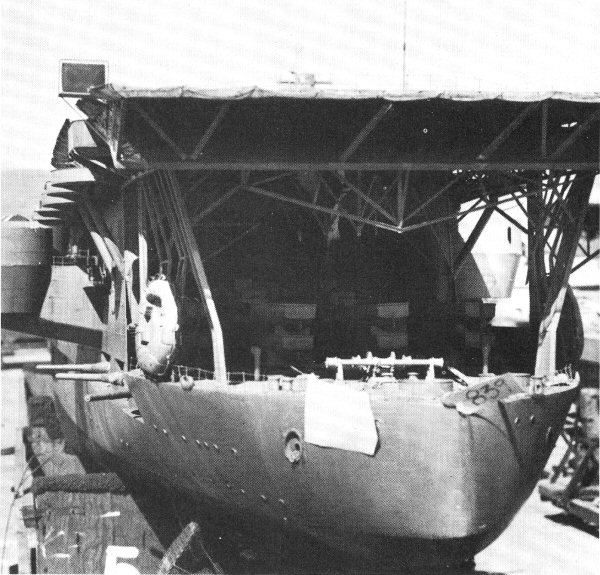 A closeup of the stern of the model of the Japanese aircraft carrier Akagi. This 1/2" to the foot scale
model was nearly thirty feet long.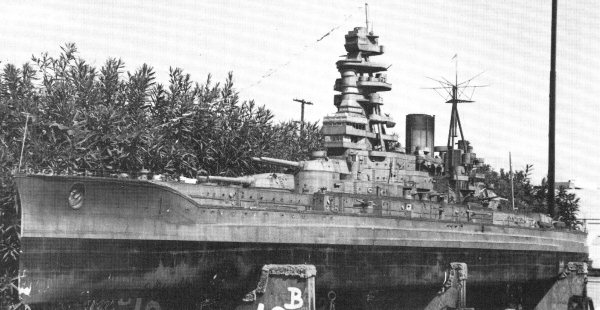 The model of the Japanese battleship Kirishima had an all fiberglass hull with a mixed wood and
metal superstructure. This model was also almost thirty feet long. It weighed in at over a
thousand pounds, and had to be moved with a derrick.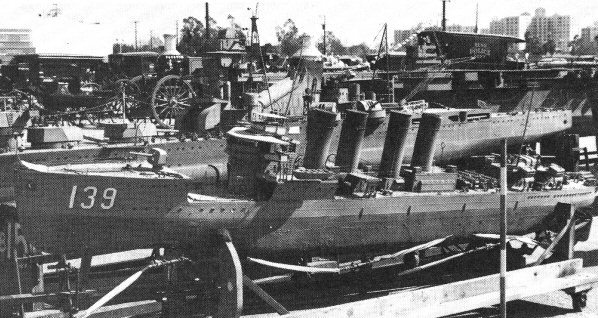 Model of the USS Ward, the destroyer that fired the first shot at Pearl Harbor. This model was a
rushed conversion from a hull that was slated to become a Japanese destroyer. It was ultimately
not used in the movie.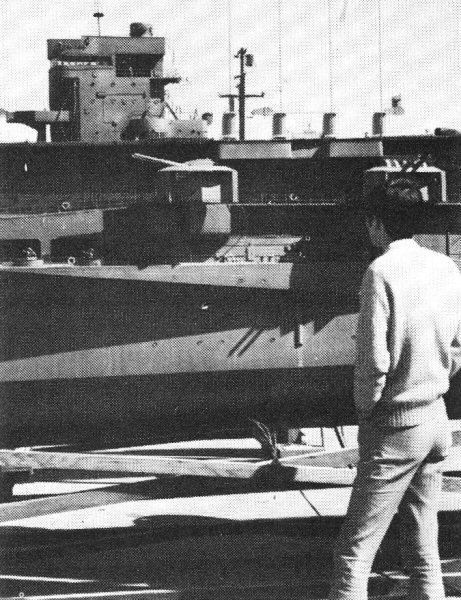 Model of the Japanese carrier Kaga. The figure of the onlooker gives you an idea of the model's size.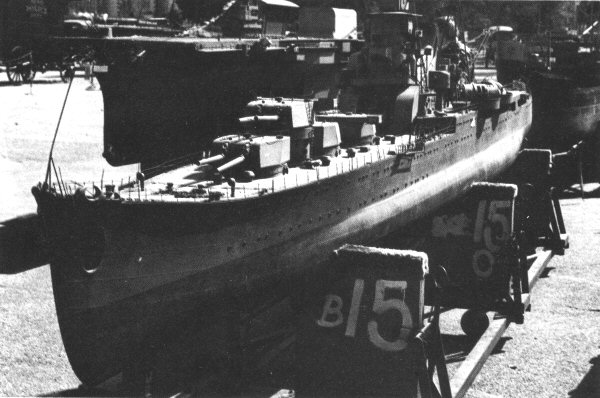 Japanese light cruiser Akubuma. This model was about 25 feet long, and sold at auction for only $800!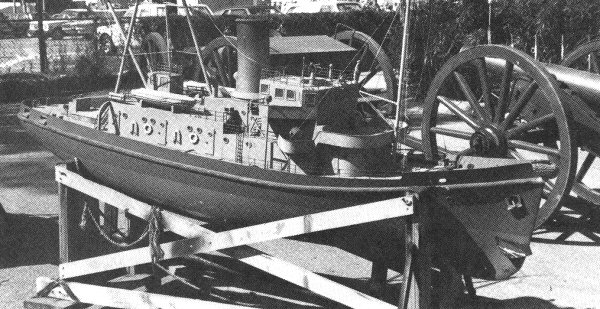 This model of an American tugboat was actually a compilation of several classes of tugs used at
Pearl Harbor. It was built in 1/2" scale, and was over ten feet long.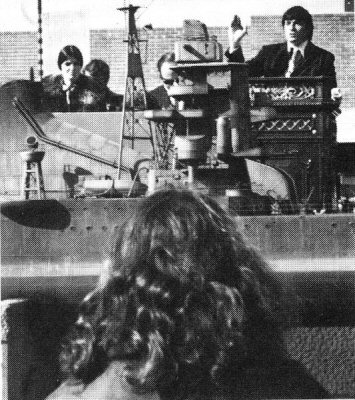 After the movie's production ends, the ship models are sold off at
auction, often for less than 10% of their building costs.
(except where noted, all photographs in this section are courtesy Scale Modeler magazine)
Click HERE to proceed to PAGE 2 of ship photos
Click here if navigation bar is not visible on the left