Douglas XB-43 Jetmaster
---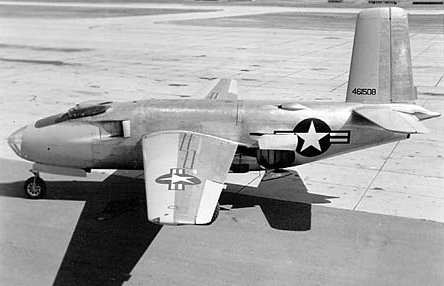 The Douglas XB-43 project was initiated in late 1943, and was basically an all-jet powered revision of the XB-42 design. Two prototypes were built, with the first flight taking place in May of 1946. After several years of being used for testing purposes, the aircraft were retired in 1953. See the links below for more information on this aircraft.
For more data on this aircraft, click here for Joe Baugher's webpage.
USAF archives on this aircraft, click here.
Additional information on this aircraft can be found at Wikipedia here.
(updated February 2009)


Douglas XB-43 Jetmaster
Type:           jet bomber
Crew:           three
Armament:       two .50 cal machine guns in tail (never installed)
                up to 8000 lbs. of bombs 

Specifications:
        Length:         51' 5"
        Height:         24' 3" 
        Wingspan:       71' 1" 
        Wing area:      325 sq. ft (30 sq. m)
        Weight:   	40,000 lbs. (max. gross weight)

Propulsion:
        No. of Engines: 2
        Powerplant:     General Electric J35-GE-3 (TG-180) axial flow turbojets
        Horsepower:     4,000 lbs. thrust each

Performance:
        Range:          2500 miles 
        Cruise Speed:   410 mph 
        Max Speed:      503 mph 
        Climb:          2470 ft/min initial climb rate
        Ceiling:        38500 ft 
---
If this page does not have a navigational frame on the left, click HERE to see the rest of the website.