Martin XB-48
---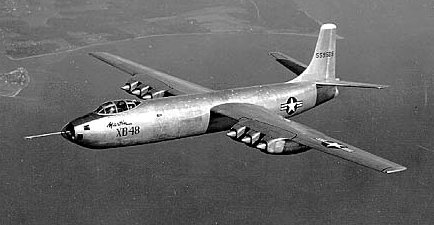 The Martin XB-48 was designed to meet an Army Air Force request for a jet bomber made in Spring of 1944. Three other bomber development projects (the North American XB-45, the Consolidated XB-46, and the Boeing XB-47) were also initiated to meet this AAF request, but none of them were developed in time to serve during WWII. For more history on this aircraft, see the links below.
For more data on this aircraft, click here for Joe Baugher's webpage.
USAF archives on this aircraft, click here.
Additional information on this aircraft can be found at Wikipedia here.
(updated February 2009)

Martin XB-48
Type:           jet bomber
Crew:           three
Armament:       two .50 cal machine guns in tail
                up to 22,000 lbs. of bombs

Specifications:
        Length:         85' 9" 
        Height:         26' 6" 
        Wingspan:       108' 4"
        Gross Weight:   58500 lb empty, 92600 max

Propulsion:
        No. of Engines: 6
        Powerplant:     General Electric J35-GE-7 axial-flow turbojets 
        Horsepower:     3820 lb.s.t. each

Performance:
        Range:          500 miles with max bombload
        Cruise Speed:   415 mph 
        Max Speed:      516 mph at 20,000 feet
        Ceiling:        39400 ft 
---
If this page does not have a navigational frame on the left, click HERE to see the rest of the website.