Republic XF-12 'Rainbow'
---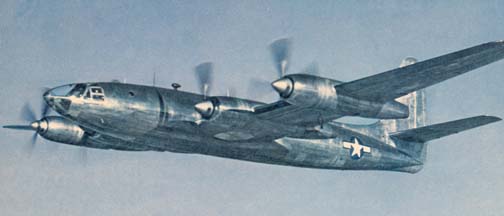 Only two built, first flown in 1946.
This page is under construction. While we're waiting for its completion, here are some links to other webpages on this aircraft:
http://aeroweb.brooklyn.cuny.edu/specs/republic/xf-12a.htm
http://www.aero-web.org/database/aircraft/getimage.htm?id=2418
http://www.globalsecurity.org/intell/systems/xr-12.htm
http://www.aerofiles.com/_repub.html
Additional information on this aircraft can be found at Wikipedia here.
(updated February 2009)

Republic XF-12
Type:		Long-range photo-recon. aircraft
Crew:		7
Armament: 	n/a
	Length:        	93' 10" (28.62m)
	Height:        	(8.75m)
	Wingspan:      	129' 2" (39.38m)
	Wing area:	(152.4 sq m)
	Empty Weight:  	(33,300 kg)
	Max Weight: 	n/a

Propulsion:
	No. of Engines:	4
	Powerplant:    	Pratt-Whitney R-4360-31 28-cyl Wasp Major
	Horsepower:	3250 hp each

Performance:
	Range:		4100 miles (5560km)
	Cruise Speed:   400 mph
	Max Speed:      460 mph (742km/h)
	Ceiling:       	41,000 ft
 
Specifications:
        n/a

If this page does not have a navigational frame on the left, click HERE to see the rest of the website.