North American A-36
---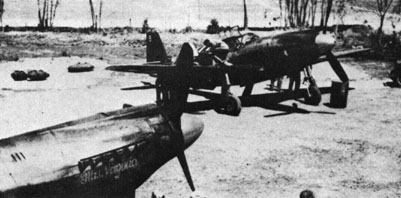 The A-36 was an early version of the P-51 provided with dive brakes and underwing racks, to operate in a close-support role.
The USAF Museum website has a page on the A-36 which states the following: The A-36A dive bomber was the first AAF version of the "Mustang" developed for Britain in 1940. The A-36 fist flew in Oct. 1942; production of 500 A-36As was completed by March 1943. Unofficially named "Invaders," A-36As were assigned to the 27th and 86th Bombardment Groups (Dive), later redesignated as Fighter-Bomber Groups. In June 1943, the plane went into action from North Africa. During the Italian campaign, A-36A pilots flew bomber escort and strafing missions as well as ground support bombing attacks. A-36As also served with the 311th Fighter Bomber Group in India. Dive brakes in the wings gave greater stability in a dive, but they were sometimes wired closed due to malfunctions. In 1944, AAF A-36As were replaced by P-51s and P-47s when experience showed that these high-altitude fighters, equipped with bomb racks, were more suitable for low-level missions than the A-36As.
For more data on this aircraft, click here for Joe Baugher's webpage.
USAF archives on this aircraft, click here.
Additional information on this aircraft can be found at Wikipedia here
(updated February 2009)

North American A-36A
Type:           Fighter
Crew:           1, Pilot
Armament:       six.50 cal machine guns
		1,000 lbs of bombs externally

Specifications:
        Length:         32' 3"
        Height:         12' 2"
        Wing span:      37'
        Wing area:      N/A
        Weight:   	10000 lbs loaded

Propulsion:
        No. of Engines: 1
        Powerplant:     Allison V-1710
        Horsepower:     1,325 hp

Performance:
        Range:          550 miles
        Cruise Speed:   250 mph
        Max Speed:      365 mph
        Ceiling:        25,100 ft.

If this page does not have a navigational frame on the left, click HERE to see the rest of the website.