Bell YFM-1 Airacuda
---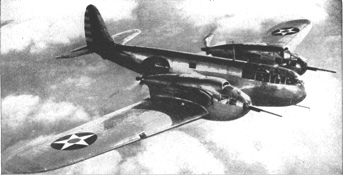 XFM-1 prototype

The YFM-1 Airacuda (sometimes spelled Aerocuda) was developed as a bomber destroyer aircraft. The FM in YFM stands for 'Fighter Multiplace' and is an USAAC designation, not to be confused with the USN designation (as used on the FM-2 Wildcat). It was an interesting design in that it had two engines, each with rearward-facing propellers, and forward-facing gunner's positions in the front of each of the extended engine nacelles. The 37mm cannon in each of these positions were remotely controlled by an operator seated in the fuselage behind the pilot, though a gunner was stationed behind each gun as a loader and for manual backup.
According to Major Alexander De Seversky's 1942 book "Victory Through Air Power", the Bell Airacuda "represents a great engineering achievment. But its designation as 'convoy fighter' is erroneous, since that requires different disposition of armament. With its maximum firepower directed forward, it really offers a preview of an effective long-range interceptor fighter."
The first prototype XFM-1 flew on September 1, 1937. The aircraft was equipped with Allison V-1710-13 1133 hp engines and achieved the top speed of 490 km/h. It was decided to build an experimental series of 13 aircraft, first of which was completed in September 1939. It was a revolutionary design that unfortunately was plagued by mechanical problems and poor performance. As a result the program ended without the Airacuda entering mass production.
Additional links: Wikipedia entry on the Airacuda is here.
Additional links: Aeroweb entry on this aircraft is here.
(updated February 2009)

Bell YFM-1 Airacuda

Type:		heavy escort fighter/bomber destroyer aircraft
Crew:		5
Armament:	two 37mm cannons,
		two 12.7mm machine guns,
		two 7.62mm machine guns,
		up to 146 kg of bombs or rockets

Specifications:
	Length:        	14.0 meters
	Height:        	3.9 m
	Wingspan:      	21.3 m
	Wing area:	55.8 sq. m
	Empty Weight:  	6200 kg
	Max Weight: 	8650 kg max at takeoff

Propulsion:
	No. of Engines:	2
	Powerplant:    	Allison V-1710-13 (pusher config.)
	Horsepower:	1133 hp each

Performance:
	Range:		2880 km
	Cruise Speed:   383 km/h
	Max Speed:      490 km/h
	Ceiling:       	9755 m


The webmaster of this site would like to thank John Hale of Durango, Colorado for providing data previously missing from this page.
If this page does not have a navigational frame on the left, click HERE to see the rest of the website.