Bell P-39 Airacobra
---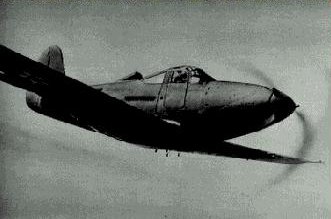 The P-39 Airacobra was the first US Army fighter with tricycle landing gear, and was also unique for having its engine placed behind the pilot in the middle of the aircraft. Other interesting features included a 37mm cannon firing through the propeller hub, and access to the cockpit via a door in the fuselage (as opposed to a moveable canopy). While not noteable as an air-to-air fighter (in American hands), the P-39 performed well as a ground attack aircraft. However, the Russians received nearly 5000 P-39s through the lend-lease program, and they used them successfully as air defense fighters on the Eastern Front. About 200 P-39s originally designated for export to the British were repossessed by the USAAF, and were known as P-400s; these were used in the early Southwest Pacific campaigns such as at Guadalcanal.
For more data on this aircraft, click here for Joe Baugher's webpage.
USAF archives on this aircraft, click here.
To see books about this aircraft on Amazon.com, click here.
Additional information on this aircraft can be found at Wikipedia here.
(updated February 2009)

Bell P-39 Airacobra
Type:           Fighter
Crew:           1, Pilot
Armament:       one 37mm T9 cannon,
                two .50 cal machine guns,
                four .30 cal machine guns

Specifications:
        Length:         30' 2" (9.19 m)
        Height:         11' 10" (3.61 m)
        Wingspan:       34' 0" (10.36 m)
        Wing area:      213  sq. ft (19.79 sq. m)
        Empty Weight:   6300 lbs (2857 kg)
        Gross Weight:   7650 lbs (3469 kg)
        Max Weight:     8850 lbs (4013 kg)

Propulsion:
        No. of Engines: 1
        Powerplant:     Allison V-1710-35
        Horsepower:     1150 hp

Performance:
        Range:          350 miles (563 km)
        Max Speed:      360 mph (579 km/hr)
        Climb:          2550 ft/min (777.2 m/min)
        Ceiling:        31900 ft (9722.6 m)
---
CLICK HERE TO SEE BOOKS ON THE AIRACOBRA ON AMAZON.COM
If this page does not have a navigational frame on the left, click HERE to see the rest of the website.